Internet2 Inclusivity Scholarship Recipients Reflect on Their 2023 Community Exchange Experience
By Stephanie Stenberg - Director, Internet2 Community Anchor Program
Estimated reading time: 7 minutes
Internet2 welcomed seven rising women in IT to its annual Community Exchange conference in Atlanta last month as recipients of the Internet2 Inclusivity (I2I) Scholarship.
The I2I initiative supports emerging women in information technology (IT) to sponsor their attendance at an annual Internet2 event and provide them with opportunities for professional growth.
Apply for an I2I Scholarship! Join Us at the 2023 Technology Exchange in September
Are you or someone you know a good candidate for the I2I scholarship? Apply or nominate someone today! The scholarship application is open now through July 14.

The I2I scholarship provides funding to support emerging IT women professionals to attend their first Internet2 event.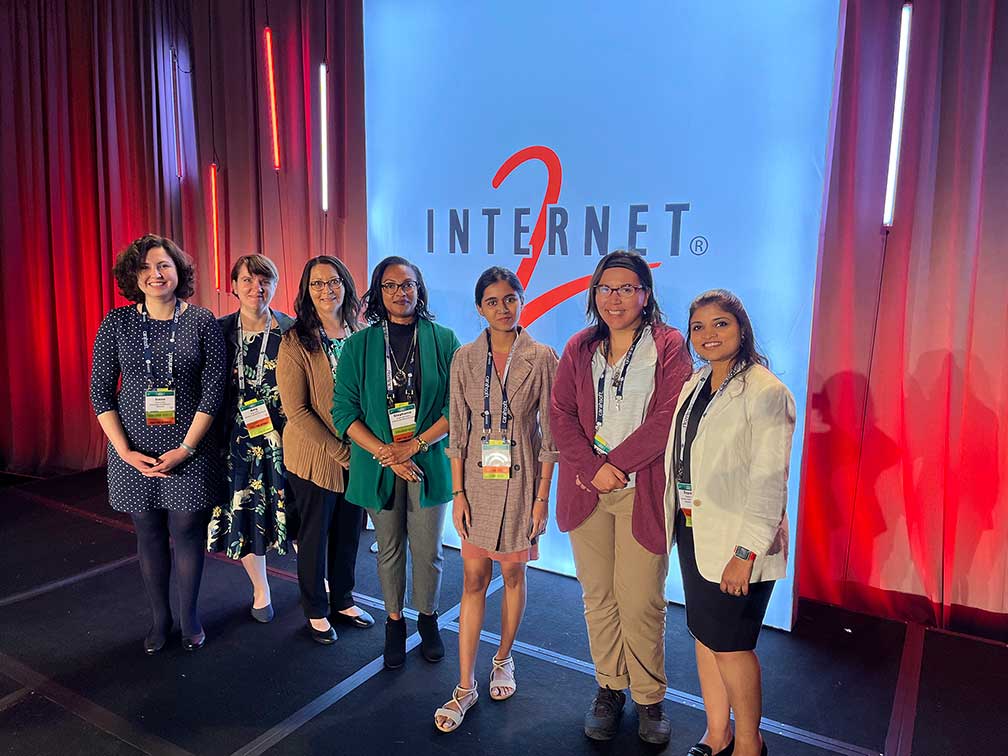 "It was incredible to have an opportunity to network with other professional women in the IT field from diverse backgrounds and varying areas of technology," said Stephania Oates, unified communications manager in the network infrastructure unit at Fayetteville State University.
"It is important we create allies and more recruitment opportunities while closing the gender gap and racial disparities for women IT professionals!"
The scholarship provides full financial support to attend the conference, the key goals of which are to continually increase the participation of women at Internet2 annual events, help them engage within and across the research and education (R&E) community, and support them in growing their professional networks.
Making Lasting Connections at Community Exchange
While a crucial part of any conference is the sessions and speakers, one of the biggest benefits of the I2I experience is the connections recipients forge within the R&E community. In addition to full financial support to attend the annual conference, Internet2 pairs scholarship recipients with mentors from across the community.
Conferences can be extremely intimidating to newcomers, so Internet2 staff made sure scholarship recipients felt at home throughout the event. "[My experience with] Internet2 was filled with such small gestures that warm your heart," observed Yamini Lakshmi Narasimhan, a master's student in computer science and business analyst intern at New York University. "With respect to speakers and sessions, what a blast! There were so many interactive and engaging sessions."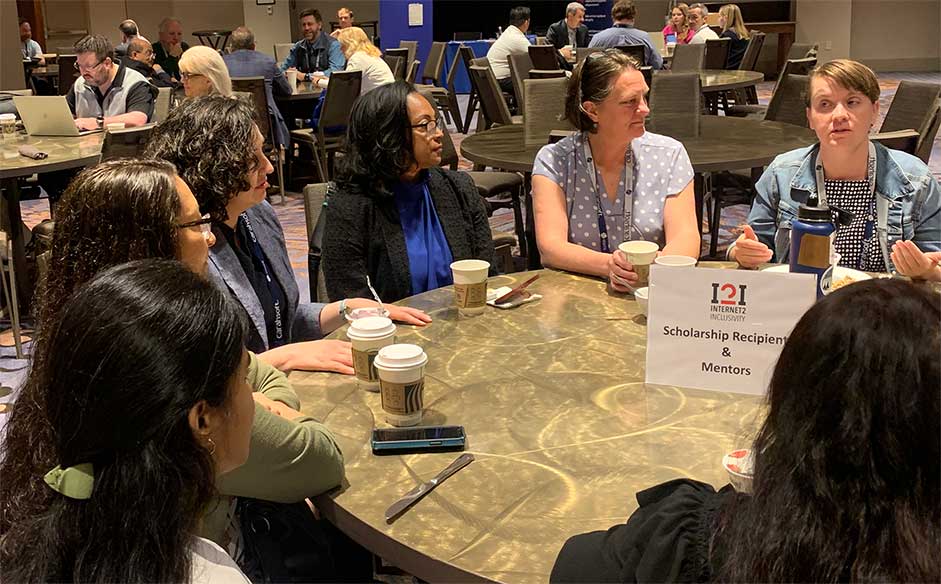 In addition to an honorary dinner, the scholarship recipients met for breakfast each morning, where they were joined by several luminaries in the R&E community. "I enjoyed the shared meals with leadership as they told their stories about their successes, failures, and lessons learned," said Amy Fouts, security analyst for the Information Security Office at Northern Arizona University. "It was also interesting to watch them pull conversations from each person at the table and connect them to the larger community. You will absolutely make lasting connections if you want to; show up, sit down, and say hi."
"What truly made the experience remarkable was the chance to meet and form bonds with other scholarship recipients. [It] was inspiring." — I2I Scholarship Recipient Anna Liza Smith.
Connecting with each other proved to be one of the most important outcomes of the I2I experience. With so many shared meals and activities, the scholarship group formed a lasting bond with each other that will carry them throughout their IT career.
"What truly made the experience remarkable was the chance to meet and form bonds with other scholarship recipients. [It] was inspiring," said Anna Liza Smith, network management system administrator in the Network Integration and Monitoring Services group, a division of the University of California, San Diego's IT Services. "We shared our experiences and perspectives, and learned from one another, widening my understanding of the diverse IT community."
Connecting with Keynote Speaker Claire L. Evans
This year, the scholarship recipients had the opportunity to get to know the fascinating keynote speaker, author, journalist, and Grammy-nominated vocalist Claire L. Evans. Claire delivered a fascinating history of the innovative women who helped make the internet. The talk was based on her book, Broad Band: The Untold Story of the Women Who Made the Internet, complete with some hilariously old computer graphics and videos.
"Claire's keynote talk inspired me to continue to do good work in IT and motivate others like me to find their path," reflected scholarship recipient Sapana Paritosh Soni, an HPC user services consultant at Lawrence Berkeley National Lab in California.
Claire's keynote wrapped up with her calling the I2I Scholarship recipients on stage in front of everyone for well-deserved applause.
Research-Based Recommendations for Aspiring Women IT Leaders
One of the highlights of the scholarship recipients' experience at Community Exchange was the fascinating I2I luncheon honoring them. Steven C. Burrell, vice president for IT and chief information officer at Northern Arizona University, shared his research, "Strategies for Overcoming Gender Bias Obstacles in IT Organizations and Guidance for Men Who Want to Remove Them," with a rapt audience. He recounted his interviews with women higher ed CIOs about their experiences dealing with gender bias in their careers.
Steven's findings included practical, insightful recommendations for women IT leaders aspiring to become a CIO and for male CIOs on how to manage gender bias in their organizations. The advice hit home for the attendees.
"It is interesting that the female CIOs that were interviewed faced some of the same challenges that I have experienced in my career as a female network engineer," shared Irene Lobos, senior network engineer at the University of California, Berkeley. Every table at the I2I lunch had lively discussions with attendees sharing their stories and advice for women in IT.
Continuing the Conversation: Life after the Community Exchange I2I Scholarship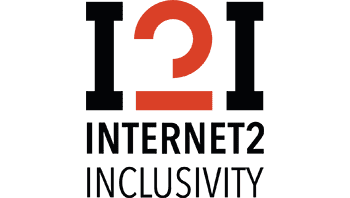 The scholarship recipients' integration into the Internet2 and R&E community didn't stop at the end of Community Exchange – the women made lasting friendships and came back with a list of follow-up conversations to have with fellow attendees. They also returned home with ideas about how to promote gender inclusivity in IT at their organizations.
Stacie Pretty On Top, the information technology operations manager at Salish Kootenai College, a tribal college situated on the Flathead Indian Reservation in Pablo, Mont., left the conference with a positive outlook on her future in IT and the Internet2 community. "Lemlmts (Thank you in the Salish language) for the opportunity […]. By raising awareness and fostering support among the attendees, these discussions and presentations contribute to a positive and progressive outlook for the future of women in technology."
These opportunities are made possible through the commitment and joint sponsorship of Internet2 community members. Thank you to Instructure, Kion, the Minority Serving – Cyberinfrastructure Consortium (MS-CC), Northern Arizona University, Rincon, and the University of California, San Diego, and Internet2 for supporting the I2I Scholarships for the 2023 Community Exchange.
You Just Might Be the Next I2I Scholarship Winner! Apply to Attend the 2023 Technology Exchange
If you or someone you know is a woman in IT in the R&E community who could benefit from the I2I Scholarship, submit your nomination or self-nomination today to attend the Internet2 Technology Exchange, Sept.18-22 in Minneapolis.