Cloud Forum 2023 Serves Up Another Full-Bodied Cloud Discussion
By Bob Flynn - Internet2 Program Manager, Cloud Infrastructure & Platform Services
Estimated reading time: 3 minutes
Since its inception, the Higher Education (née Cornell) Cloud Forum has been the conclave where college (and university) cognoscenti convene to contribute concepts calculated to craft the course of cloud computing in our community. That custom continued in 2023.
This year's Cloud Forum was held on May 11 at Emory University and hosted by Wayne Ortman and the highly efficient team from Emory's Office of Information Technology. Attendees were warmly welcomed by John Ellis, interim enterprise CIO and senior vice provost of information technology in Convocation Hall, one of the many jewels of the beautiful Emory campus. John, a long-time friend of and former presenter at the Cloud Forum, expressed pride in his team's work in the cloud and the cloud community, and rightly so.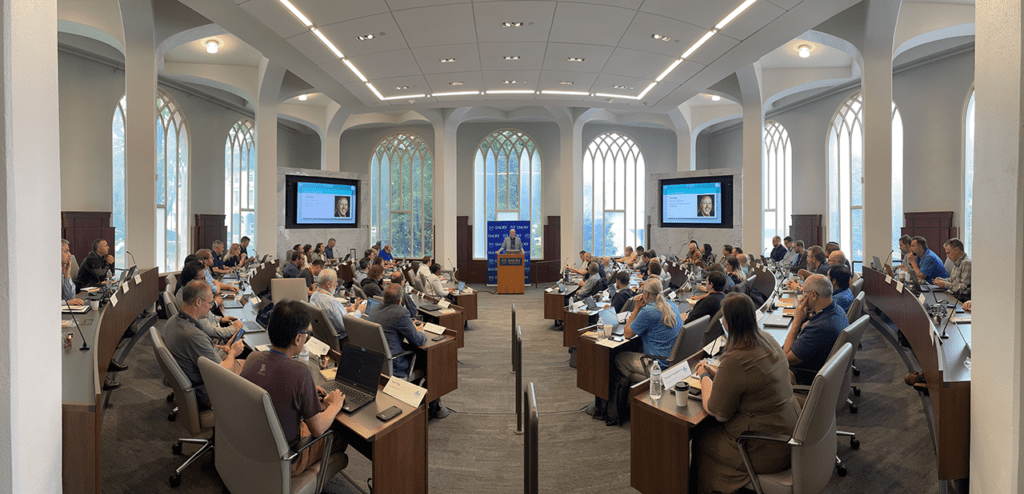 A Full But Balanced Meal
The Cloud Forum started in 2015 as a svelte 1.5 day event. Over time it bulked up to its current fighting weight of 2.5 days and leveled off there despite frequently being tempted with intellectual sweets like adding multiple tracks and expanding to include topics beyond cloud enablement and strategy. One change request the organizing committee willingly conceded to was to move the event to the quieter spring conference calendar. Accommodating that meant waiting 18 months until spring of 2024 or quickly putting together an event for 2023.
Since the 2022 Cloud Forum took place in November, holding the 2023 Forum a mere six months later was a bit like going back to the buffet line for seconds during the same meal. I hear you saying "But the content is just sooo good, you just can't help yourself." Nevertheless, we sucked in our guts and confined ourselves to one plate (day) this time around by caboosing onto the 2023 Internet2 Community Exchange train.
We still managed to find space on that one plate for a rich agenda of topics, including multi-cloud management, analytics, HPC, hybrid operations & cloud migrations, FinOps, and more. I'll point out that Jonathan White (University of Central Florida) lobbied during this year's Forum for a whole buffet devoted to FinOps. Perhaps that can be the workshop topic for the 2024 Cloud Forum.
Save Room for Networking
Another common request of Cloud Forum attendees is for there to be more time for that ever-important networking with peers. Thanks to expert scheduling by University of Pittsburgh's Brian Pasquini, we had plenty of balance between content and conviviality. We also tacked on an optional second day of pure cloud fun with an AWS GameDay event where 11 multi-institutional teams vied to make the most efficient cloud-based unicorn ride-hailing company. Congratulations to "B Squad," a team combining University of Michigan (Jim Charters & Martin Sager) and Vanderbilt (Heather Mitchell) cloud pros, who held off a very competitive field.
A full-bodied Cloud Forum normally includes presentations, lightning talks, panel discussions, presentations by researchers, a workshop, and an unconference. Time constraints limited us to presentations and lightning talks in 2023, but the Cloud Forum will be back in full glory next year.
On the Menu for 2024
The 2024 Cloud Forum will take place April 30 to May 2, 2024 at the Jen-Hsun Huang Engineering Center on the campus of Stanford University. Planning for next year's event will be soon. The planning committee and our Stanford hosts, Lucricia Kim-Boswell and Noah Abrahamson, have several exciting ideas in store for next year's event.
Watch for the timeline, including dates for the call for proposals and registration, to be posted to the Cloud Forum website. We hope to see you in Palo Alto!