New Co-Chairs Selected for Internet2 Inclusivity Initiative Steering Committee
By Amber Rasche - Senior Communications Specialist, Internet2
Estimated reading time: 2 minutes
Internet2 welcomes Sarvani Chadalapaka, director of Cyberinfrastructure and Research Technologies (CIRT) at the University of California Merced, and Deidre Mitchell, enterprise information security engineer at the University of Alabama-Birmingham, as the new co-chairs of the Internet2 Inclusivity Initiative (I2I) Steering Committee.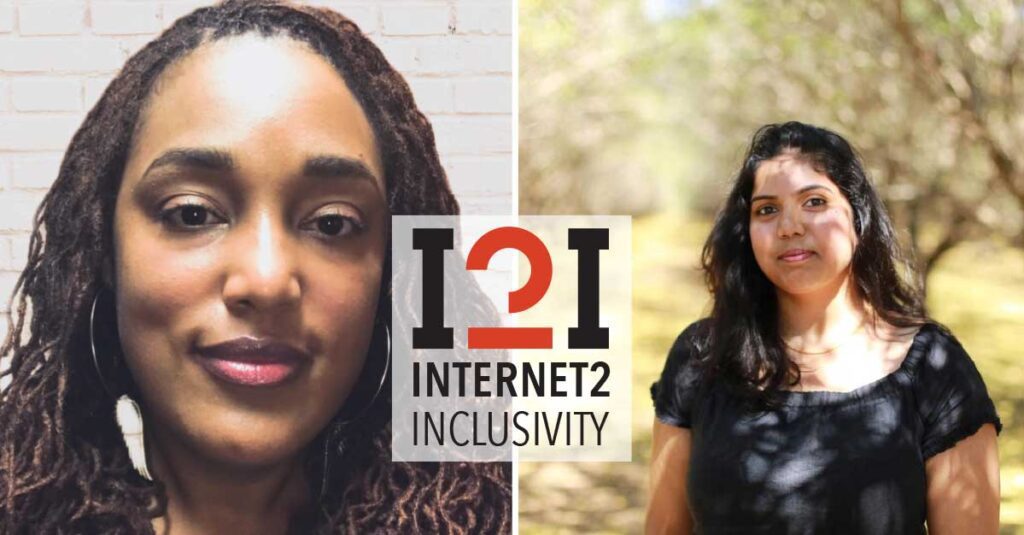 Understanding that diversity, equity, and inclusivity (DEI) are essential for a robust and thriving global research and education community, the I2I Steering Committee works with Internet2 staff on resources, projects, and programming opportunities that support DEI across the Internet2 community.
I2I is part of Internet2's larger commitment to promoting a culture that includes, encourages, supports, and celebrates diverse voices and reflects the communities we serve. Learn more about the initiative, its priorities, community collaborations, and available resources.
Sarvani and Deidre are past recipients of the I2I Scholarship Award and have served on the I2I Steering Committee since 2019. They have been appointed to serve as co-chairs starting in January 2022.
"I would like to continue the Internet2 Inclusivity program legacy of providing resources to improve diversity and inclusion in the community of networking and technical professionals," Sarvani said. "I am excited to be working alongside my co-chair, Deidre Mitchell, in these efforts."
"I am honored and grateful for the opportunity to work with Sarvani as I2I Steering Committee co-chair," Deidre said. "I look forward to the collaborative endeavors we will encounter as we strengthen the diversity, equity, and inclusion landscape within the Internet2 community."
Internet2 and the I2I Steering Committee would also like to thank outgoing committee co-chairs Laurie Burns McRobbie, first lady emerita of Indiana University, and Marla Meehl, manager of network engineering and telecommunications services at the University Corporation for Atmospheric Research and manager of the Front Range GigaPoP, for their many contributions to I2I.
"Laurie and Marla have been deeply supportive of I2I since its inception in 2014," said Ana Hunsinger, vice president of community engagement at Internet2. "Under their guidance as co-chairs, the I2I Steering Committee has facilitated many critical conversations to strengthen DEI in our community and has supported 41 early-career women professionals in the fields of networking and IT through professional development and mentorship opportunities afforded by the I2I Scholarship program."
Join the I2I Steering Committee
Are you interested in learning more about the I2I Steering Committee, have recommendations, or want to express future interest in joining the committee? Email i2i-steering@internet2.edu.