Guam-Singapore Connectivity Consortium
The Guam–Singapore Connectivity Consortium is a partnership between Internet2 and International Networks at Indiana University (IN@IU) in the United States, Australia's Academic and Research Network (AARNet), and the Arterial Research and Educational Network in the Asia Pacific (ARENA-PAC).
In December 2021, the consortium deployed a 100 Gbps circuit between Guam and Singapore through a 15-year agreement. The new link also creates resiliency for the region by providing alternate paths between Japan and Singapore; between Australia and Singapore; as well as between the United States and Japan, Australia, and Singapore.
The effort is also supported with contributions from SingAREN in Singapore and the University of Hawaii, which provide connectivity at the exchange points they operate.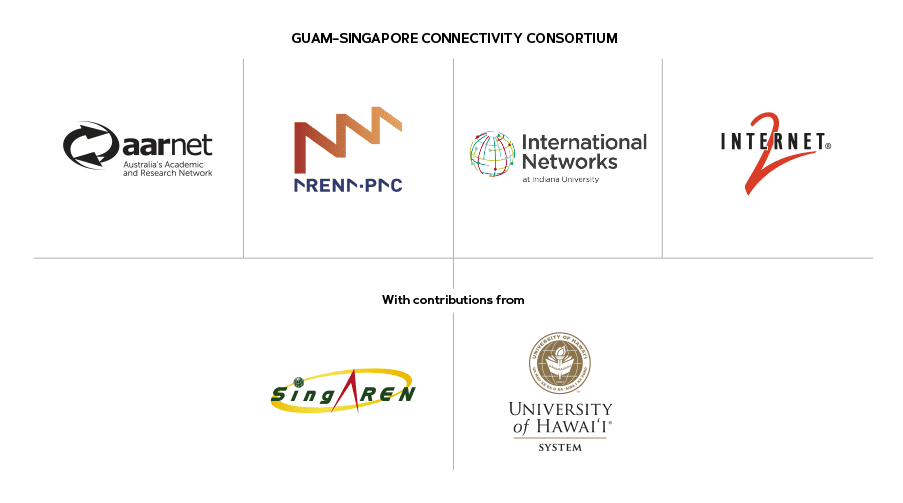 The Guam–Singapore Connectivity Consortium members are part of a larger collaboration of 11 global research and education networks in North America, East Asia, Southeast Asia, and Oceania known as the Asia Pacific Oceania Network (APOnet). The new 100 Gbps link contributes to APOnet and its efforts to provide high-speed trans-oceanic network services that offer flexibility and dependability, increase data transfer speeds, support end-to-end connectivity analysis, and ensure the advancement of quality service through emerging network technologies.