Internet2 Network Milestone: 1 Exabyte of Data Moved Between January and May 2021
By Robert Vietzke, Internet2 Vice President for Network Services
Last evening, Internet2 reached a major milestone by moving over 1 exabyte of data in less than five months. This achievement occurs a little under two months earlier than last year1 and shows the continued acceleration of research data growth during this unexpected academic year. 
The data movement milestone comes a few weeks since Internet2 set another record: 10 petabytes of data moved in a single day on April 19, 2021. It also follows 8 new top-10 data movement dates in the last month. Internet2 is now moving close to 10 petabytes every academic weekday and 6 petabytes on an academic weekend across our Layer 2 and 3 services. If trends hold, we will easily surpass last year's 2.165 exabyte total by the end of the year.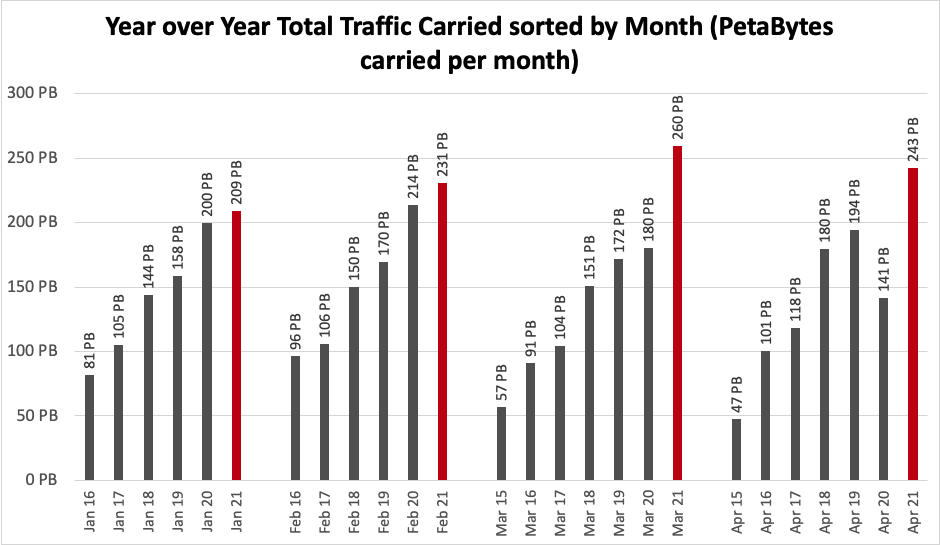 The Internet2 community has known for a long time that a robust technology infrastructure can serve as the foundation for enhanced collaboration among US research institutions and their global partners. For those of us on the advanced networking side of this infrastructure, we have continued to support the high-performance integration of compute and big data by providing the connectivity and resiliency required to support scientific discovery.
Celebrating the Community's Commitment to Maintaining Bandwidth Abundance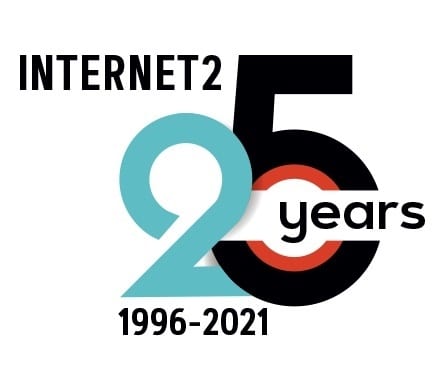 As Internet2 celebrates its 25th anniversary this year, it's with pride and humbleness that we reflect on the impact that research and education networks have had, and continue to have, on supporting the academic and research collaborations. Since its start, Internet2 has been purpose-built to support the advanced data requirements of hundreds of universities, government agencies, and tens of thousands of community anchor institutions across the US.
This unexpected academic year at Internet2 member institutions has shown wildly different traffic patterns supporting remote access, accelerated research, and changing use patterns. Absorbing these changes without major challenges has also validated the community's long-standing commitment to maintaining bandwidth abundance ahead of demand.
As the spring semester winds down and Internet2 members prepare for the fall, we are actively working to bring additional capacity online through the new 400G-based Next Generation Infrastructure online and promise to be ready for emerging new research applications when schools open this fall. Together, we will be ready for the next 25 years!
Related articles and blog posts:
---
1
Historical data indicate that Internet2 reached the exabyte milestone on June 27 in 2020 and June 29 in 2019.
What is a petabyte? What is an exabyte?
According to this Computer Weekly article:
If the average MP3 encoding for mobile is around 1MB per minute, and the average song lasts about four minutes, then a petabyte of songs would last over 2,000 years playing continuously.
One petabyte is enough to store the DNA of the entire population of the US – and then clone them, twice.
An exabyte of storage could contain 50,000 years worth of DVD-quality video.