Internet2 Community Exchange 2023 Convenes Research and Education Technology Leaders in Atlanta
Estimated reading time: 4 minutes
Sessions Highlight Digital Inclusion and Equity, Automation, Cloud Strategy, Cybersecurity, and More
WASHINGTON, D.C., April 10, 2023 – Emerging and established leaders from the U.S. and global research and education (R&E) technology community will convene in Atlanta for the 2023 Internet2 Community Exchange, May 8-11.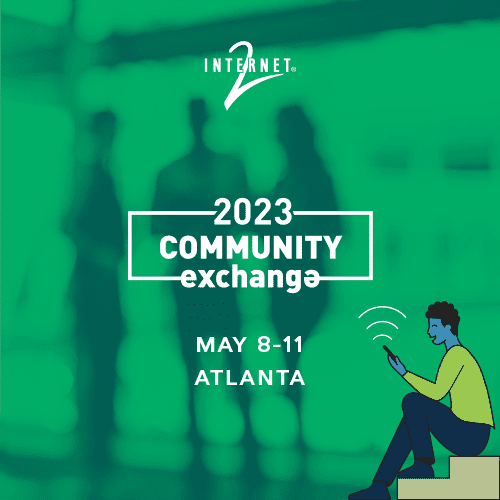 Attendees will share perspectives, shape policy, and influence the development of services and infrastructures in support of their educational, research, and community-service missions. The program includes inspiring keynotes, expert-led talks, and workshops on topics including digital transformation, digital inclusion and equity, accessibility, cybersecurity, cloud strategy, trust and identity, advanced network modernization and automation, and collaborative projects to move the community forward.
Thought-Provoking Keynotes Set to Celebrate and Inspire
Claire L. Evans, author of Broad Band and co-founder of VICE's Terraform, will present the opening keynote, "The Untold Story of the Women Who Made the Internet," at 8:45 a.m. ET Tuesday, May 9. Evans will offer an insightful social history of the women visionaries at the vanguard of technology and innovation who made the internet what it is today.
A panel of leaders from historically underserved higher education institutions will take center stage to deliver the closing keynote, "Reframing our Perspective: Centering HBCU and TCU Voices to Reimagine a Stronger R&E Community," at 1:15 p.m. ET Thursday, May 11. Panelists will spotlight their institutions' lasting impacts and ask to reimagine together how to ensure equal participation in the national and global R&E communities.
More Program Highlights
The Internet2 Community Exchange event program includes 44 presentations led by subject-matter experts, 29 working meetings for community groups, three technical workshops on network automation and security, and an invitation-only Leadership Exchange for executive leaders in the Internet2 community.
With dozens of sessions to choose from, here are some of the don't-miss highlights:
Two co-located events will also take place during Community Exchange: the Higher Education Cloud Forum and the first MS-CC Annual Meeting.
More information can be found on the 2023 Internet2 Community Exchange website.
About Internet2
Internet2® is a non-profit, member-driven advanced technology community founded by the nation's leading higher education institutions in 1996. Internet2 delivers a diverse portfolio of technology solutions that leverages, integrates, and amplifies the strengths of its members and helps support their educational, research, and community service missions. Internet2's core infrastructure components include the nation's largest and fastest research and education network that was built to deliver advanced, customized services that are accessed and secured by the community-developed trust and identity framework. For more information, visit https://internet2.edu or follow @internet2 on Twitter.
Media Contact:
Amber Rasche
Internet2 Communications
arasche@internet2.edu