Sept. 18-22 | Hilton Minneapolis | Minneapolis, Minn.
2023 Internet2 Technology Exchange Program
Explore Challenges, Discover Solutions
The 2023 Internet2 Technology Exchange program includes expert-led sessions with exciting content in all five tracks, along with tutorials, working meetings, and co-located events. The event is held at the Hilton Minneapolis in Minneapolis, Minn and registration is open.
The program reflects research and education's most pressing challenges and promising solutions, with topics submitted and presented by the community for the community.
For Presenters:
Guidelines to Submit Your Talk
Are you presenting at TechEX23?
Get the presenter guidelines, including the official TechEX23 PowerPoint template, to submit your talk by the Sept. 8th deadline!

Note: The key for session tracks featured in the below program schedule is as follows: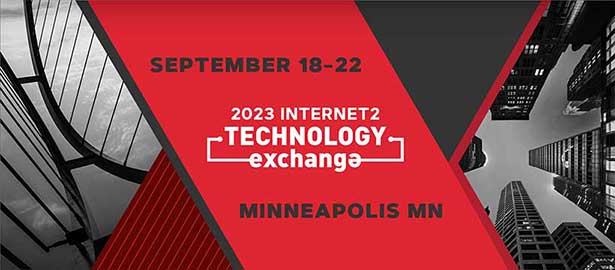 AN=Advanced Networking
CT=Cloud Technology
IAM=Identity and Access Management (including CAMP)
IS=Information Security
RE=Research Engagement
You may sort by track by clicking on Track 1 or Track 2.
Monday, September 18, 2023
All events are on Central Time
Time
Title
Speakers
Room
7:30 a.m – 6 p.m.
Registration Desk Open
Red Wing
8 a.m – 11:30 a.m.
Tutorial | Introduction to GitOps and Packaging
Shannon Byrnes, Internet2
Blake Dworaczyk, Texas A&M University
Orchestra C
8 a.m. – 11:30 a.m.
Tutorial | FABRIC Early Experimenter Tutorial (Intro)
Paul Ruth, University of North Carolina – Chapel Hill
Orchestra B
8 a.m. – 11:30 a.m.
Tutorial | Building Research Apps with Globus PaaS
Vasilios Vasiliadis, University of Chicago
Rachana Ananthakrishnan, Globus
Josh Bryan, Globus
Marquette IX
8 a.m. – 11:30 a.m.
Tutorial | Writing Fine-grained Measurements Apps with P4 Programmable Data Plane Switches
Jorge Crichigno Benitez, University of South Carolina
Marquette VIII
8 a.m. – 11:30 a.m.
Tutorial | Security & Resiliency in the Cloud TTX
Hector Rodriguez, AWS
Jan Day, AWS
Marquette V
8 a.m. – 11:30 a.m.
Tutorial | Secure Programming and Dependency Analysis Tools –Theory & Practice
Elisa Heymann Pignolo, University of Wisconsin – Madison
Marquette VII
8 a.m. – 11:30 a.m.
Tutorial | AARC Blueprint Architecture Workshop
Christos Kanellopoulos, GEANT
Marquette VI
11:30 a.m. – 1:00 p.m.
Lunch for Tutorials Only
Symphony Ballroom
11:45 a.m. – 12:45 p.m.
TechEX 101 (Invitation Only – Separate Registration Required)
Rochester
1 p.m. – 4:30 p.m.
CSP Reunion (Invitation Only)
Marquette I
1 p.m. – 4:30 p.m.
Tutorial | Automation with Cisco NSO
Karl Newell, Internet2
James Harr, Internet2
Orchestra C
1 p.m. – 4:30 p.m.
Tutorial | FABRIC Early Experimenter Tutorial (Intermediate/Advanced)
Paul Ruth, University of North Carolina – Chapel Hill
Orchestra B
1 p.m. – 4:30 p.m.
Tutorial | Compute at All Scales
Vasilios Vasiliadis, University of Chicago
Rachana Ananthakrishnan, Globus
Josh Bryan, Globus
Orchestra D
1 p.m. – 4:30 p.m.
Tutorial | Security Applications with P4 Switches
Jorge Crichigno Benitez, University of South Carolina
Marquette VI
1 p.m. – 4:30 p.m.
Tutorial | Google Cloud Hero – Visual, ML, & BigQuery
Christian Michael, Google
Marquette VII
1 p.m. – 4:30 p.m.
Tutorial | eduroam-US Mobility Day
Sara Jeanes, Internet2
Marquette VIII
1 p.m. – 4:30 p.m.
MS-CC Workshop – Science DMZ and Networking for All
Marquette III
2 p.m. – 5 p.m.
Arin@TechEX
Minneapolis Ballroom Prefunction
5 p.m. – 6:30 p.m.
Welcome Reception: Sponsored by Oracle
Minneapolis
Salon D
Tuesday, September 19, 2023
All events are on Central Time
Time
Title
Speakers
Tracks
Room
7 a.m – 6 p.m.
Registration Desk Open
Red Wing
7 a.m. – 8:30 a.m.
Breakfast & Working Meetings
Minneapolis
Salon D
7 a.m. – 8:30 a.m.
Newcomer Breakfast
Minneapolis
Salon D
7 a.m. – 8 a.m.
InCommon Certificate Service SIG
IAM
Orchestra C
7 a.m. – 8 a.m.
Influencing Tech Policy for Good
Orchestra D
7 a.m. – 8 a.m.
Private 4G/5G Wireless Networks BoF
Orchestra B
8 a.m. – 8:50 a.m.
InCommon Futures 2.0
Marc Wallman, North Dakota State University
Kevin Morooney, Internet2
IAM
Minneapolis
Salon C
8:30 a.m. – 9 a.m.
What is happening in Network Services?
James Deaton, Internet2
AN
Minneapolis
Salon E/F
9 a.m. – 9:50 a.m.
Federation Manager – A Collaboration
Johnny Lasker, Internet2
Mark Donnelly, Painless Security
Jonathan Gabel, Alfa Jango
IAM
Minneapolis
Salon C
9 a.m. – 9:50 a.m.
Insight Console: IAM Deep Dive (30 min)
Ten Obscure Things I Learned Automating (15 min)
Networking Ways to Fail in the Cloud (5 min)
Mike Simpson, Indiana University
Shannon Byrnes, Internet2
Scott Taylor, Internet2
AN
Minneapolis
Salon E/F
9 a.m. – 9:50 a.m.
Automating AWS Org Management
Kelly Rivera,
Hallah Hussein, University of Wisconsin Madison
CT
Minneapolis
Salon A
9 a.m. – 9:50 a.m.
Security Posture Improvement in HE
Marina Krenz, Indiana University
Susan Coleman Snyder, REN-ISAC
IS
Minneapolis
Salon G
9 a.m. – 9:50 a.m.
FasterData Mobility Testing Framework
Ken Miller, ESnet
RE
Duluth
9 a.m. – 9:50 a.m.
ABAC to the Future
Chris Hyzer, University of Pennsylvania
Minneapolis
Salon B
9:50 a.m. – 12:10 p.m.
Insight Console Demo
Minneapolis Ballroom Prefunction
9:50 a.m. – 10:20 a.m.
Refreshment Break
Minneapolis Ballroom Prefunction
10 a.m. – 5 p.m.
Arin@TechEX
Minneapolis Ballroom Prefunction
10:20 a.m. – 11:10 a.m.
Network Automation Tapas
AJ Ragusa, GlobalNOC
Amy Liebowitz, University of Michigan
Frank Seesink, University of North Carolina – Chapel Hill
Maria Isabel Gandia, CSUC/RedIRIS (GÉANT project)
Shannon Byrnes, Internet2
AN
Minneapolis
Salon E/F
10:20 a.m. – 11:10 a.m.
AzureAD Proxying for InCommon Federation
Jared Johnson, Children's Mercy Research Institute
CT, IAM
Minneapolis
Salon B
10:20 a.m. – 11:10 a.m.
RNP Advanced Services RDI Program
Rafael De Tommaso do Valle, Rede Nacional de Ensino e Pesquisa (RNP)
IS
Minneapolis
Salon G
10:20 a.m. – 11:10 a.m.
Coordinating Campus-based RCD Research
Jim Wilgenbusch,
Daniel Stocker,
Colby Reese,
Cody Hanson,
Charles Nguyen,
Dan McDonald, University of Minnesota
RE
Duluth
10:20 a.m. – 11:10 a.m.
MFA Lessons Learned – Implementing Large-Scale Change using Grouper
Summer Scanlan, University of California, Berkeley
Jesse Taylor, University of Nevada, Las Vegas
IAM
Minneapolis
Salon C
11:20 a.m. – 12:10 p.m.
Relax and Listen to Peers!
Charise Arrowwood, Unicon
Ethan Kromhout,
Celeste Copeland, University of North Carolina, Chapel Hill
IAM
Minneapolis
Salon C
11:20 a.m. – 12:10 p.m.
Shibboleth Project and Roadmap Update
Scott Cantor, The Ohio State University
IAM
Minneapolis
Salon B
11:20 a.m. – 12:10 p.m.
Network Automation: Strategies and Tools (25 )
When You Are Ready to GO Beyond PYTHON (15 min)
Building an Automation Culture@GlobalNOC (10 min)
Jason Hardy, University of Texas at Arlington
Frank Seesink, University of North Carolina – Chapel Hill
Luke Fowler, Indiana University
AN
Minneapolis
Salon E/F
11:20 a.m. – 12:10 p.m.
Moving from VM to Cloud Native Container
Khalid Ahmadzai, University of California, Office of the President (UCOP)
CT
Minneapolis
Salon A
11:20 a.m. – 12:10 p.m.
Zeek Known Services Classification: ZTA
Fatema Bannat Wala, ESnet
IS
Minneapolis
Salon G
11:20 a.m. – 12:10 p.m.
Facilitating RCD Community Success
Dana Brunson, Internet2
Timothy Middelkoop, Internet2
John Hicks, Internet2
RE
Duluth
12:10 p.m. – 1:40 p.m.
Lunch & Working Meetings
Minneapolis Salon D
12:10 p.m. – 1:40 p.m.
The ANA Collaborator's Working Lunch (Invitation Only)
AN
Marquette VII
12:10 p.m. – 1:40 p.m.
BoF: The Changing Role of the REN/NREN in Team Science
Scotty Strachan, Nevada System of Higher Education
Forough Ghahramani, NJEdge
Timothy Middelkoop, Internet2
Dana Brunson, Internet2
RE
Marquette IX
12:10 p.m. – 1:40 p.m.
Grouper BOF
IAM
Orchestra A
12:15 p.m. – 1:00 p.m.
Segment Routing Benefits and Learnings
AN
Marquette VIII
12:30 p.m. – 1:30 p.m.
Tales from the Trenches
AN
Orchestra B
12:30 p.m. – 1:30 p.m.
Bridging the Diversity Gap
Brenna Meade, Indiana University
Jason Zurawski, ESnet
AN
Orchestra C
12:30 p.m. – 1:30 p.m.
COmanage Project Open Office Hours LIVE
Benn Oshrin, Spherical Cow Group
Laura Paglione, Spherical Cow Group
IAM
Orchestra D
12:30 p.m. – 1:30 p.m.
Community Trust & Assurance Board
IAM
Marquette IV
12:30 p.m. – 1:30 p.m.
NET+ and Cloud Vendor Risk Management
IS
Marquette VI
12:30 p.m. – 1:30 p.m.
perfSONAR Exhibit Booth
The perfSONAR Development Team
AN
Minneapolis Ballroom Prefunction
1:40 – 2:30 p.m.
Insight Console Demo
Minneapolis Ballroom Prefunction
1:40 p.m. – 2:30 p.m.
Passwordless Authentication
Peter Balčirák, CESnet
IAM
Minneapolis
Salon B
1:40 p.m. – 2:30 p.m.
eduGAIN's Future Is Now
Davide Vaghetti, Consortium GARR
Maarten Kremers, SURF
IAM
Minneapolis
Salon C
1:40 p.m. – 2:30 p.m.
Deploying Shib IDP via Azure DevOps
Jason Rappaport, Princeton
CT
Minneapolis Salon A
1:40 p.m. – 2:30 p.m.
Risk in Complex R&E Environments
Kyle Lewis, RCDT
IS
Minneapolis
Salon G
1:40 p.m. – 2:30 p.m.
ESnet & I2 Network Orch. Perspective (25 min)
Automating a Campus with Cisco NSO (25 min)
Marc Koerner, ESnet
Karl Newell, Internet2
Amy Liebowitz, University of Michigan
AN
Minneapolis Salon
E/F
2:40 p.m. – 3:30 p.m.
Two Factors, No Eyes, Again
Keith Wessel,
Keith Hays, University of Illinois Urbana-Champaign
IAM, IS
Minneapolis
Salon C
2:40 p.m. – 3:30 p.m.
IAM Archaeology
Kellen Murphy, University of Virginia
Chris Bongaarts, University of Minnesota
IAM
Minneapolis
Salon B
2:40 p.m. – 3:30 p.m.
ESnet6 Production High Touch Telemetry (25 min)
Intro to The Workflow Orchestrator (25 min)
Yatish Kumar, ESnet
Christoper Cummings, ESnet
AN
Minneapolis
Salon E/F
2:40 p.m. – 3:30 p.m.
Proprietary Data in Data-Driven Research
Jesse Erdmann, University of Minnesota
RE
Duluth
2:40 p.m. – 3:30 p.m.
Containers and Orchestration Oh My!
Frank Seesink, University of North Carolina – Chapel Hill
CT
Minneapolis
Salon A
3:30 p.m. – 4 p.m.
Insight Console Demo
Minneapolis Ballroom Prefunction
3:30 p.m. – 4 p.m.
Refreshment Break
Minneapolis Ballroom Prefunction
4 p.m. – 4:50 p.m.
Get to Know the InCommon Catalysts
Matt Growden, Provision IAM
IAM
Minneapolis
Salon C
4 p.m. – 4:50 p.m.
Browser Privacy: Benefit or Threat
Judith Bush, OCLC
Scott Cantor, The Ohio State University
Gary Windham, Cirrus Identity
IAM
Minneapolis
Salon B
4 p.m. – 4:50 p.m.
Let's GIT Started (20 min)
Data-Informed Network Automation with Na (20 min)
James Harr, Internet2
Josh VanDeraa, NetworktoCode
AN
Minneapolis
Salon E/F
4 p.m. – 4:50 p.m.
Modernizing Legacy Architecture
Ivan Palikuca, Loyola Marymount University
CT, IS
Minneapolis
Salon A
4 p.m. – 4:50 p.m.
IaaS for Research: OpenStack Lessons
Benjamin Lynch,
James Wilgenbusch,
Graham Allan, University of Minnesota
RE
Duluth
5 p.m. – 6:30 p.m.
GlobalNOC 25th anniversary RECEPTION
Minneapolis
Salon D
Wednesday, September 20, 2023
All events are on Central Time
Time
Title
Speakers
Tracks
Room
7 a.m – 5 p.m.
Registration Desk Open
Red Wing
7 a.m. – 8:30 a.m.
Breakfast & Working Meetings
Minneapolis
Salon D
7 a.m. – 8 a.m.
CACTI Open Working Meeting
IAM
Orchestra A
7 a.m. – 8 a.m.
NET+ Duo SAB open meeting
Nick Lewis, Internet2
IS
Orchestra B
7 a.m. – 8:15 a.m.
NTAC Network Automation SIG
AN
Orchestra D
7 a.m. – 8:30 a.m.
IAM-HER (Women in IAM-Hi Ed & Research)
IAM
Marquette V
7 a.m. – 8:30 a.m.
ERN: Democratizing Research Instruments
Barr von Oehsen, Pittsburgh Supercomputer Center
Forough Ghahramini, EDGE
Maureen Dougherty, Ecosystem for Research Networking
RE
Marquette IX
8 a.m. – 8:50 a.m.
Explore the InCommon Trusted Access Platform
Paul Caskey, Internet2
Keith Hazelton, Internet2
IAM
Minneapolis
Salon C
8 a.m. – 8:50 a.m.
Zero Trust: Identity's Critical Role
Andrew Morgan, Oregon State University
Jason Peak, Oregon State University
IAM
Minneapolis
Salon B
8:30 a.m. – 9 a.m.
The GÉANT network: Ready for the Future
Bram Peeters, GEANT
AN
Minneapolis
Salon E/F
8:30 a.m. – 12:10 p.m.
Insight Console Demo
Christopher Green, Internet2
NS
Minneapolis
Ballroom Prefunction
9 a.m. – 9:50 a.m.
Entity Categories: Federation to Scale
Pål Axelsson, Sunet / Swedish Research Council
Joanne Boomer, University of Missouri
Judith Bush, OCLC
Scott Cantor, The University of Ohio
Steven Premeau, University of Maine
Albert Wu, Internet2
IAM
Minneapolis
Salon C
9 a.m. – 9:50 a.m.
Eduroam Logs: Demo of Grafana with IAM
Matt Growden, Provision IAM
Stephen Fox, Provision IAM
Slaveck Licehammer, Evolveum
Paul Caskey, Internet2
Johnny Lasker, Internet2
IAM
Minneapolis
Salon B
9 a.m. – 9:50 a.m.
The perfSONAR Power Hour
Andy Lake, ESnet
Sarah Larsen, ESnet
Mark Feit, Internet2
Lætitia A Delvaux, Poznan Supercomputing and Networking Center
AN
Minneapolis
Salon E/F
9 a.m. – 9:50 a.m.
Cloudy with a Chance of Conservation
Netta Caligari,
Scott Woods, West Arete
Rob Carter, Duke University
Keith Wessel, University of Illinois Urbana – Champaign
CT
Minneapolis
Salon A
9 a.m. – 9:50 a.m.
OpenRAN@Brasil: Boosting RD&I in Telecom
Lucas Bondan, Rede Nacional de Ensino e Pesquisa (RNP)
RE
Duluth
9 a.m. – 9:50 a.m.
Collaborations in Information Security
Joseph Potchanant, EDUCAUSE
Marina Krenz, Indiana University
Paul Howell, Internet2
Nick Lewis, Internet2
IS
Minneapolis
Salon G
9:50 a.m. – 10:20 a.m.
Refreshment Break
Minneapolis Ballroom Prefunction
10 a.m. – 5 p.m.
Arin@TechEX
Minneapolis Ballroom Prefunction
10:20 a.m. – 10:45 a.m.
Migrating to Control Tower and Terraform
Heather Mitchell, Vanderbilt University
CT
Minneapolis
Salon A
10:20 a.m. – 11:10 a.m.
REFEDS Assurance Framework 2.0 Release
Kyle Lewis, RCDT
IAM
Minneapolis
Salon C
10:20 a.m. – 11:10 a.m.
A Peek into the Future with IGA
Slavek Licehammer, Evolveum
IAM
Minneapolis
Salon B
10:20 a.m. – 11:10 a.m.
Enabling RPKI
John Sweeting, ARIN
Steve Wallace, Internet2
AN
Minneapolis
Salon E/F
10:20 a.m. – 11:10 a.m.
Sustainable Staffing for RCD Research
James Wilgenbusch,
Joshua Baller,
Benjamin Lynch,
Christy Henzler, University of Minnesota
RE
Duluth
10:20 a.m. – 11:10 a.m.
Fighting the Cyber People War
Warrick Mitchell, AARnet
Minneapolis
Salon G
10:45 a.m. – 11:10 a.m.
Creating and Managing Secure Research Engagement
Heather Mitchell, Vanderbilt University
CT, IS
Minneapolis
Salon A
11:20 a.m. – 12:10 p.m.
Scalable Trusted Federation
David St. Pierre Bantz, University of Alaska
Keith Wessel, University of Illinois, Urbana-Champaign
Steven Pemeau, University of Maine
Jon Miner, University of Wisconsin-Madison
Albert Wu, Internet2
IAM
Minneapolis
Salon C
11:20 a.m. – 12:10 p.m.
Enabling Single Logout in SATOSA
Hannah Sebuliba,
Matthew Economou, NIAID International Program
IAM
Minneapolis
Salon B
11:20 a.m. – 12:10 p.m.
Building the Internet2 Route Reports (15 min)
Routing Intentions: Policy vs. Implementation (15 min)
GlobalNOC Light (10 min)
Ryan Harden, Internet2
Steve Wallace, Internet2
Heather Starks, GlobalNOC
Jason Zurawski, ESnet
AN
Minneapolis
Salon E/F
11:20 a.m. – 12:10 p.m.
Streamlining Policy Exemptions with Azure Functions
Jason Rappaport, Princeton
CT, IS
Minneapolis
Salon G
12:10 p.m. – 1:40 p.m.
Lunch Sponsored by Radware & Working Meetings
Minneapolis
Salon D
12:10 p.m. – 1:40 p.m.
Internet2 Inclusivity Initiative Lunch Presentation
Marquette V
12:10 p.m. – 1:40 p.m.
DDoS Mitigation Special Interest Group
IS, AN
Marquette III
12:10 p.m. – 1:40 p.m.
TAGPMA F2F Working Meeting
IAM
Marquette IV
12:10 p.m. – 1:40 p.m.
Global Net Advancement (GNA-G) Meeting
AN
Orchestra A
12:10 p.m. – 1:40 p.m.
InCommon Technical Advisory Committee (Open Meeting)
IAM
Marquette VIII
12:30 p.m. – 1:30 p.m.
Eduroam Special Interest Group Session
IAM
Marquette IX
12:30 p.m. – 1:30 p.m.
perfSONAR Exhibit Booth
The perfSONAR Development Team
AN
Minneapolis Ballroom Prefunction
1:40 p.m. – 2:30 p.m.
AI-Driven Traffic Engineering: HECATE (25 min)
Using NetSage to Support ACCESS (10 min)
R&E Networking Upgrades for HL-LHC (10 min)
Mariam Kiran,
Scott Campbell,
Nick Buraglio, Lawrence Berkeley National Lab
Dale Carder, ESnet
AN
Minneapolis
Salon E/F
1:40 p.m. – 2:30 p.m.
When Lightning Talks Strike: Navigating Storm Clouds
Chris Horen, University of Colorado – Boulder
Dan Landerman, Northwestern University
Ananya Ravipait, Internet2
Scott Taylor, Internet2
CT
Minneapolis
Salon A
1:40 p.m. – 2:30 p.m.
MFA Evolution on Campus
Nick Lewis, Internet2
IS, IAM
Minneapolis
Salon C
1:40 p.m. – 2:30 p.m.
Cyberinfrastructure Advancement Designed by and for HBCUs and TCUs
Al Anderson, Director of IT, Salish Kootenai College
Tim Warren, CIO, Tennessee State University
Febbie Dickerson, Vice President for Academic Affairs, American Baptist College
Dr. Lei Qian, Associate Professor and Coordinator of Computer Science, Fisk University
Lauren Michael, MS-CC
RE
Duluth
2:40 – 4 p.m.
Insight Console Demo
Christopher Green, Internet2
NS
Minneapolis
Ballroom Prefunction
2:40 p.m. – 3:30 p.m.
How to Sirtfi
Kyle Lewis, RCDT
IAM
Minneapolis
Salon B
2:40 p.m. – 3:30 p.m.
Can Your API Do This: Cloud APIs and SSO
Keith Wessel,
Erik Coleman, University of Illinois Urbana-Champaign
IAM, CT
Minneapolis
Salon C
2:40 p.m. – 3:30 p.m.
Deployment of Virtual Labs with NMaaS (25 min)
Routing Security tools at the GlobalNOC/1 Year with the network troubleshooter (20 min)
Vojdan Kjorveziroski, Cyril and Methodius University
Łukasz Łopatowski, Poznan Supercomputing and Networking Center
Andrew Ragusa, GlobalNOC
AN
Minneapolis
Salon E/F
2:40 p.m. – 3:30 p.m.
Climbing the Threat Ladder
Josh Drake, OMNI-SOC/Indiana University
IS
Minneapolis
Salon G
3:30 p.m. – 4 p.m.
Refreshment Break
Minneapolis Ballroom Prefunction
4 p.m. – 4:50 p.m.
Lightning Talks:
Oh Yeah? Prove It (15 min)
Integrating Commercial Products (15 min)
Lived Name Considerations (15 min)
Grady Bailey, University of Texas – Austin
Peter Balčirák, CESnet
Summer Scanlan, University of California, Berkeley


IAM
Minneapolis
Salon C
4 p.m. – 4:50 p.m.
RARE/freeRtr and GP4L in GEANT-5 project (25 min)
Network Performance Troubleshooting (15 min)
Frederic Loui, RENATER/GEANT
Sonja Filiposka, GEANT
Karl Newell, Internet2
AN
Minneapolis
Salon E/F
4 p.m. – 4:50 p.m.
Insight Console Demo
Christopher Green, Internet2
NS
Minneapolis
Ballroom Prefunction
4 p.m. – 4:50 p.m.
How to Support a Customized ERP via AWS
Jay Hulslander, Cornell University
CT
Minneapolis
Salon A
4 p.m. – 4:50 p.m.
Protecting research vessels: Honeypots
Mike Simpson, Indiana University
Ryan Kiser, OmniSOC/ResearchSOC
Hugh Thomas, Forewarned Inc.
IS, RE
Minneapolis
Salon G
5:15 p.m. – 6:45 p.m.
Connector/Network Member BoF (Invitation Only)
Linda Roos, Internet2
AN
Orchestra A
6:15 p.m. – 8:15 p.m.
Internet2 Inclusivity Scholarship Awardees & MS-CC Reception (Invitation Only)
Marquette VI
7:30 p.m. – 10:00 p.m.
Game Night (Open for All)
Minneapolis
Salon D
Thursday, September 21, 2023
All events are on Central Time
Time
Title
Speakers
Tracks
Room
7 a.m – 5 p.m.
Registration Desk Open
Red Wing
7 a.m. – 8:30 a.m.
Breakfast & Working Meetings
Minneapolis
Salon D
8 a.m. – 8:50 a.m.
ACAMP: Welcome and Agenda Setting
IAM
Symphony Ballroom
8:30 a.m. – 9 a.m.
Collaborating and Testing Innovative Architectures within the R&E Community
Chris Wilkinson, Internet2
AN
Minneapolis
Salon E/F
8:30 a.m. – 12:10 p.m.
Insight Console Demo
Christopher Green, Internet2
NS
Minneapolis
Ballroom Prefunction
9 a.m. – 9:25 a.m.
Hybrid Cloud Models for Fun and Heartburn
James Bennett, Indiana University
CT
Minneapolis
Salon C
9:25 a.m. – 9:50 a.m.
Gamifying Cloud Training To Build Your Community
Damian Doyle, University of Maryland – Baltimore County
Tim Champ, University of Maryland – Baltimore County
Kevin Murakoshi, AWS
CT
Minneapolis
Salon C
9 a.m. – 9:50 a.m.
ACAMP 1
IAM
Marquette Ballroom
9 a.m. – 9:50 a.m.
Improving Network Convergence and Traffic Management Leveraging Emerging Architectures & Software Features (20 min)
A Vision For Engaging the Community to Optimally Leverage Shared Infrastructure and Cloud Services (20 min)
Multi-Vendor Optical Transport of 400GE (10 min)
Chad Sorrell, Internet2,
Jeff Bartig, Internet2
Chris Tracy, ESnet
AN
Minneapolis
Salon E/F
9 a.m. – 9:50 a.m.
A Holistic Cybersecurity: SOC-RNP
Emilio Tissato Nakamura, Rede Nacional de Ensino e Pesquisa (RNP)
IS
Minneapolis
Salon G
9 a.m. – 9:50 a.m.
ESnet smartNIC Open Source P4 HW for all
Yatish Kumar, ESnet
RE
Duluth
9:50 a.m. – 10:20 a.m.
Refreshment Break
Minneapolis Ballroom Prefunction
10 a.m. – 4 p.m.
Arin@TechEX
Minneapolis Ballroom Prefunction
10:20 a.m. – 11:10 a.m.
ACAMP 2
IAM
Marquette Ballroom
10:20 a.m. – 11:10 a.m.
Hybrid SDN Campus Architectures (20 min)
NFV @ SURF (20 min)
William Brockelsby,
Charles Kneifel, Duke University
Eyle Brinkhuis, SURF
AN
Minneapolis
Salon E/F
10:20 a.m. – 11:10 a.m.
Cloud Security By Default
Matthew Stout,
George Holbert, University of California, Office of the President (UCOP)
CT, IS
Minneapolis
Salon C
10:20 a.m. – 11:10 a.m.
Mizzou Cloud DevOps Learning Platform
Prasad Calyam, University of Missouri-Columbia
RE
Duluth
11:00 – 11:10 a.m.
Lightning Talk
David Sinn
AN
Minneapolis Salon E/F
11:20 a.m. – 12:10 p.m.
Research Computing Security Vision
Garhan Attebury, University of Nebraska – Holland Computing Center
Greg Gray,
Neil Brown,
Matthew Long, University of Nebraska
IS, RE
Minneapolis
Salon G
11:20 a.m. – 12:10 p.m.
ACAMP 3
IAM
Marquette Ballroom
11:20 a.m. – 12:10 p.m.
CENIC's Approach to Network Slicing (25 min)
ESnet Site Resilience Program Overview (25 min)
Dennis Cagampan, CENIC
Joe Metzger, ESnet
AN
Minneapolis
Salon E/F
11:20 a.m. – 12:10 p.m.
Scaling Apps with Platform Engineering
James Bennett, Indiana University
CT
Minneapolis
Salon C
12:10 p.m. – 1:40 p.m.
Lunch & Working Meetings
Minneapolis
Salon D
12:10 p.m. – 1:40 p.m.
Security Special Interest Group
IS
Orchestra D
12:30 p.m. – 1:30 p.m.
Azure Advisory Group Listening Session
CT
Orchestra B
12:30 p.m. – 1:30 p.m.
GNA Routing Working Group
AN
Orchestra C
12:30 p.m. – 1:30 p.m.
perfSONAR Exhibit Booth
The perfSONAR Development Team
AN
Minneapolis Ballroom Prefunction
1:40 p.m. – 2:30 p.m.
ACAMP 4
IAM
Marquette Ballroom
1:40 – 4 p.m.
Insight Console Demo
Christopher Green, Internet2
NS
Minneapolis
Ballroom Prefunction
1:40 p.m. – 2:30 p.m.
MFA and Network Devices (40 min)
Ryan Harden, Internet2
David Wheeler, NCSA
David Ripley, GlobalNOC
Patrick Storm, ESnet
AN
Minneapolis
Salon E/F
1:40 p.m. – 2:30 p.m.
Control Chaos with IaC & Automation
Joshua Whitlock, University of California, Office of the President (UCOP)
CT
Minneapolis
Salon C
1:40 p.m. – 2:30 p.m.
Security, the Community Way
Tangui Coulouarn, NORDUnet
Rogier Spoor, SURF
IS
Minneapolis
Salon G
2:40 p.m. – 3:30 p.m.
ACAMP 5
IAM
Marquette Ballroom
2:40 p.m. – 3:30 p.m.
A Scalable Solution to Detect Microbursts (25 min)
Integrated Monitoring Portal for LA NRENs (25 min)
Jeronimo Bezarra,
Renata Frez,
Italo Valcy, Florida International University; Tiago Monsores, RedCLARA
AN
Minneapolis
Salon E/F
2:40 p.m. – 3:30 p.m.
How to Tame your Clouds with Automation
Eliyahu Ben-Shoshan,
Nicholas Cecere, University of Florida
CT
Minneapolis
Salon C
2:40 p.m. – 3:30 p.m.
Results of a Global Security Exercise
Sven Gabriel, Nikhef/EGI
David Crooks, STFC UKR
IS
Minneapolis
Salon G
3:30 p.m. – 4:00 p.m.
Break
4 p.m. – 4:50 p.m.
ACAMP 6
IAM
Marquette Ballroom
4 p.m. – 4:50 p.m.
Leveraging Coherent Optics and Open Line Systems in Production Scenarios (20 min)
Minding our MANRS at ESnet (20 min)
Empowering Measurement Users at ESnet (20 min)
JoAnne Bender, Internet2
Dale Carder, ESnet
Daniel Doyle, ESnet
AN
Minneapolis
Salon E/F
4 p.m. – 4:50 p.m.
Merging Development Team with DevOps
Jay Hulslander, Cornell University
CT
Minneapolis
Salon C
4 p.m. – 4:50 p.m.
DDoS Detection/Mitigation @ AmLight
Renata Frez,
Jeronimo Bezzera,
Italo Valcy, Florida International University 
IS
Minneapolis
Salon G
5 p.m. – 7 p.m.
Netcoder BoF
Mark Feit, Internet2
AN
Rochester
Friday, September 22, 2023
All events are on Central Time