2023 Internet2 Community Exchange | May 8, 2023 | Atlanta, Ga.
Leadership Exchange
What is the Leadership Exchange?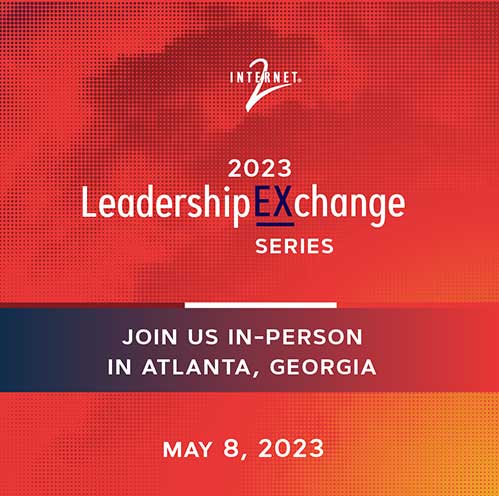 Formerly known as the Executive Track, the Leadership Exchange is a gathering of R&E leaders within the overall Community Exchange event.
This invitation-only gathering offered a selection of topics and speakers tailored to the interests and issues of R&E executive leaders within the framework of Community Exchange.
The Leadership Exchange was held in the Savannah Ballroom located on the 10th floor at the Westin Peachtree Plaza. The program featured an opening panel presentation on the topic of Artificial Intelligence as well as discussions regarding the Internet2 five-year roadmap. 
In preparation for the five-year roadmap discussions, all attendees were encouraged to spend 15-30 minutes reviewing the overview materials which include two summary narrative documents and a presentation from our town hall sessions. Thank you for reviewing the materials. 
Agenda
Here's the program schedule for the half-day session:
TIME
TITLE
DETAILS
SPEAKERS
ROOM
Noon
Lunch
Lunch will be served in the foyer space as you enter the Savannah Ballroom
Savannah Ballroom
12:30
Welcome Remarks
Howard Pfeffer will welcome attendees. This is a working lunch and attendees will continue to eat lunch as the program begins
Howard Pfeffer, president and CEO, Internet2
Savannah Ballroom
12:35 – 1:30
What AI Means for Higher Education
A facilitated discussion exploring the challenges and opportunities facing higher education as AI becomes increasingly present on our campuses
Stan Waddell, vice president for Information Technology and Chief Information Officer, Carnegie Mellon

Bill Campman, director of Data & AI, US Education, director of Academic Medical Centers, US Education, Microsoft

Carolyn Penstein Rosé, professor of Language Technologies and Human-Computer Interaction, Carnegie Mellon

Savannah Ballroom
1:30
BREAK
1:45 – 2:30
Introduction and Discussion of Five-Year Roadmap Process
Howard Pfeffer, president and CEO, Internet2

Kevin Morooney, vice president for Trust and Identity and NET+ Services, Internet2

Ana Hunsinger, vice president for Community Engagement, Internet2

James Deaton, vice president for Network Services, Internet2
Savannah Ballroom
2:30 – 3:15
Tabletop Breakout Discussion Groups
Attendees will be asked to participate in a group table exercise responding to specific questions about the five year roadmap
Savannah Ballroom
3:15
BREAK
3:30 – 4:15
Table Report Outs and Group Discussion
Attendees will be asked to summarize their table group discussions for the benefit of and discussion by all attendees
Savannah Ballroom
4:15 – 4:30
Takeaways and Next Steps
4:30
Adjourn
Following the program, participants met in the Augusta Ballroom for the Welcome Reception to continue the conversation and network with all Community Exchange attendees.
We look forward to seeing you soon!