Q&A with Marianne Chitwood: Indiana GigaPOP Among the 'First to 400G' on Internet2's Network
By Amber Rasche - Senior Communications Specialist, Internet2
Estimated reading time: 5 minutes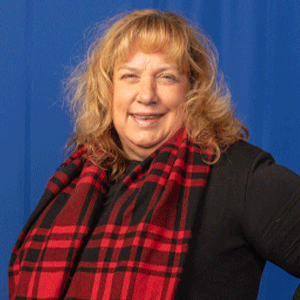 Internet2 recently unveiled its fifth-generation backbone, known as the Next Generation Infrastructure (NGI). NGI interconnects with 37 state and regional networks and serves every state in the U.S. Among these 37 are the first five to upgrade to 400 gigabits per second connectivity: Florida LambdaRail, Indiana GigaPOP, Mid-Atlantic Crossroads, Ohio Academic Resources Network, and Utah Education and Telehealth Network. In this "First to 400G" blog series, we spotlight each of these networks and how NGI's new capabilities and capacity meet the needs of the broader research and education communities.
Marianne Chitwood is the executive director of I-Light and Indiana GigaPOP – which combined provide the state's research and education network services. In this Q&A, Marianne discusses Indiana GigaPOP's mission in support of the state's higher education institutions and their research partners, the opportunities and challenges driving Indiana GigaPOP constituents' connectivity needs, and what's next on the horizon.
Tell us more about Indiana GigaPOP. What is your organization's mission? What is the scope of the communities and institutions you serve – in other words, who depends on your infrastructure and how do they use it?
Marianne Chitwood: Indiana GigaPOP combined with I-Light serves nearly every institution of higher learning in the state of Indiana, from the large public universities to the small private colleges and the community college campuses. Our primary mission is to provide a robust network and services to meet the needs of all our member institutions.
Our members have access to national and international research and education networks, enabling research with partners around the world. I-Light enables a variety of capabilities, such as the secure exchange of large data files, access to supercomputers and scientific data storage facilities, multi-campus collaborative research projects, and much more.
Indiana GigaPOP has been interconnected with Internet2's backbone since 1999 and an Internet2 member since 2007. From your perspective, how has being part of the community supported your mission and constituents?
Marianne Chitwood: Our connection to Internet2 allows us to meet the requirements that our members have for high-speed research connectivity. It also provides us with access to commercial peering and more recently to Cloud Connect services for our member institutions that are continuing to grow their utilization of cloud services.
What was your network capacity prior to the recent upgrade, and how did you know it was the right time to upgrade to 400G?
Marianne Chitwood: Historically, Indiana GigaPOP was connected to Internet2 in Chicago via leased dark fiber with optical transport operated internally. The path was linear in nature and included connectivity to the Big Ten Academic Alliance OmniPoP. We've had the capabilities to do 400G to Chicago since 2018 but didn't have an immediate demand, and we were skeptical of creating an imbalance of resilient network operations – too much linear dependency on connectivity to Chicago.
We've wanted to add redundancy to Chicago for some time and, when NGI kicked off, we had an opportunity to create a second path to Chicago, add redundant connectivity to the OmniPoP, and upgrade to 400G connectivity to the Internet2 network. The effort made as much business sense as technical sense.
Tell us about some of the current opportunities and/or challenges driving your constituents' connectivity needs, including capacity and other capabilities. Specifically, what are some of the research and education drivers for additional capacity?
Marianne Chitwood: With Indiana GigaPOP having a 400G ring between two locations in Indianapolis and two locations in Chicago, and I-Light having a multi-100G ring through the northern, central, and southern parts of the state, both networks are in a good position to provide high-speed connectivity for years to come.
The most notable increase on the horizon is the LHC Open Network Environment (LHCONE) projections in 2024 that 400G to individual institutions and their resources may be necessary to exchange research data at appropriate intervals. With the investments we've made in the infrastructure, we're in a good position to increase services to those institutions when the need arises.
What's next on the horizon for Indiana GigaPOP? What current or upcoming initiatives are you most excited about?
Marianne Chitwood: On behalf of the Indiana GigaPOP and I-Light members, we've initiated efforts to engage security services through the OmniSOC. OmniSOC will take over the detection of security incidents, including DDoS and targeted attacks, responding in real time to incidents as they occur.
OmniSOC is a shared cybersecurity operations center for higher education and research and a leader in the higher education cybersecurity community. Since forming in 2018, the center has made a name for itself delivering critical, actionable, high-quality alerts 24×7 at substantial savings. OmniSOC can leverage the collective knowledge seen across its membership, which includes other schools outside the scope of the Indiana region. OmniSOC will also provide security engineer and analyst resources to augment the network team, bringing additional experience and training available to our membership.
Read the other Q&As in the "First to 400G" series
ICYMI