Gigabit Libraries and Beyond: Year One Grant Update
By Therese Perlowski - Program Manager, Internet2 Community Anchor Program
Estimated reading time: 4 minutes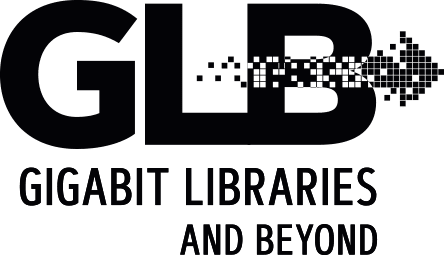 In September 2020, Internet2 received funding for the Gigabit Libraries and Beyond (GLB) project through a $249,788 Institute of Museum and Library Services (IMLS) Laura Bush 21st Century Librarian Program grant.
The GLB project builds on the success of the 2018 IMLS grant-funded Toward Gigabit Libraries (TGL) toolkit, which empowered library practitioners to become more informed consumers, advocates, and providers of internet access and digital services to their communities. Along with updating, improving, and expanding the original TGL toolkit, the GLB project team will also expand the toolkit's audience to under-resourced urban libraries in addition to tribal and rural libraries across the United States.
Connected Libraries: A Lifeline in Tech Deserts
Libraries act as a lifeline to connect and support the nearly 42 million Americans who do not have access to wired or fixed wireless broadband in their homes. This gap in access disproportionately impacts low-income families, rural residents and tribal communities, African Americans, Latinx communities, and people with disabilities, which makes improving libraries' IT and broadband infrastructure essential to promoting digital inclusion and equity.
Despite the role libraries play in providing such critical access to technology and the internet, technical help is often not available for libraries. The Public Libraries of America (PLA) 2020 Public Library Technology Survey found that only 11% of rural libraries, 32% of suburban libraries, and 65% of urban libraries have full-time IT staff. Without sufficient technical help, the task of managing the library's IT and broadband services often falls on library staff without much technical experience.
"In order for libraries to bring digital resources to their patrons, they need robust and scalable broadband infrastructure to serve their facilities," said Stephanie Stenberg, director of Internet2's Community Anchor Program. "We are excited to continue supporting tribal and rural libraries' efforts in connecting to advanced broadband capabilities, and to expand our outreach efforts for the first time to urban libraries that are often located in technology deserts."
2021 Progress and Accomplishments
The initial focus of the GLB project has been on recruiting and developing a robust advisory board, conducting a comprehensive revision of the original TGL toolkit, building awareness of the toolkit and its benefits, and conducting outreach. The project team consists of Stephanie Stenberg and Therese Perlowski of the Internet2 Community Anchor Program, and Carson Block and Bonnie Nichols of Carson Block Consulting.
Read on to discover more about the team's progress.
Advisory Board: We recruited over 40 subject matter experts from across the U.S. to join the Gigabit Libraries and Beyond Advisory Board and held the board's inaugural meeting in January 2021. We also created two subgroups within the advisory board to focus on the identification of and outreach to stakeholders within tribal and urban communities. Meet the GLB Advisory Board members.
Toward Gigabit Libraries Toolkit Revisions: Currently, the full project team is completing the first major revision to the toolkit since it was initially published. The revision incorporates updated content, additional worksheets and illustrations, new guidance on forming community-based support teams, a deeper dive into advocacy and funding, and more.
Train the Trainer Curriculum: Carson has been working to prototype, test, and refine components of this curriculum through his work on other projects in South Dakota, Arkansas, Pennsylvania, and New York. We will use the curriculum to train toolkit users and individuals who volunteer to give their own toolkit presentations.
Toolkit Outreach: Stephanie and Carson conducted eight virtual conference presentations about the Toward Gigabit Libraries toolkit to various audiences including the American Library Association, several state libraries, state and regional research and education networks, and the Association for Rural and Small Libraries.
To stay in touch and for more information about our current progress, speaking engagements, and toolkit training, bookmark the new Gigabit Libraries and Beyond homepage, follow us on Twitter, and email us at contactcap@internet2.edu to join our email list!
ICYMI