Getting the Band Back Together at TechEX
By Kevin Morooney - Vice President of Trust and Identity and NET+, Internet2
Estimated reading time: 4 minutes
As I've navigated the fall of 2022, I'm struck that it has an exciting familiarity to it. "Exciting" and "familiarity" don't often go together, so I got to wondering why I was feeling excited about something that wasn't new and shiny. After a bunch of long dog walks, I think I figured it out. There are two parts.
Part One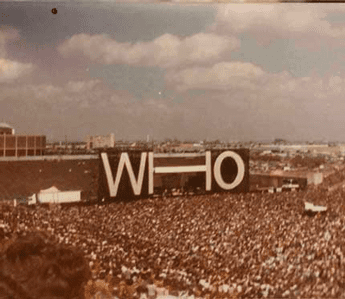 I've never been to Coachella, Lollapalooza, or South by Southwest (SXSW). I've always wanted to experience one of those events at least once, but I haven't gotten to it. The closest I could get to something like a music festival in my more flexible days (a charitable way of saying before having a job, kids, or car payment, etc.) was concert tours that had multiple, major headliners on them. When I was in college, I had the good fortune of seeing The Who for the first time … they were my favorite band as a teenager.
My excitement for finally seeing The Who, however, was equaled by the prospect of also seeing Santana and The Clash – at the same event! I was treated to all different sounds and artistic approaches, and I knew a fair amount of each band's discography, so I could probably sing and shout along for most of the day. I was bowled over at the prospect of so much good music in one sitting. I had been to many other concerts prior, but they were the typical concerts – a no-name up-and-coming band (or two) I'd never heard of before getting to the main event. This concert in Philadelphia set a whole new bar for what a musical experience could be. (​I forgot about The Hooters, apologies to all of The Hooters fans out there). It was a whole 'nother experience getting to take in all of these great bands in the same setting.
Part Two
This past summer, I had the good fortune and opportunity to attend GEÁNT's TNC conference. The format and the content of the conference were pretty much what they had been over recent years. Our European colleagues made international travel worth the cost and the hassle (remember the chaos with air travel in the summer? It was real.). As usual, every hour on the hour, my head was spinning with a new idea or thought inspired by a presentation or hallway conversation. It's what we expect from a well-designed conference, right?
There was something different about this TNC. The difference wasn't mysterious; it wasn't subtle; it wasn't shy. As presentation rooms were filling up, as the herd made its way to the big tent for whole-conference events and as coffee started flowing at the breaks, the difference was unambiguously in full display. The genuine warmth and excitement of friends seeing each other after too much time and too much hardship could not be contained. The joy and excitement of people seeing one another and sharing the same spaces were unbridled. If it wasn't so uplifting, it might have come off as almost "corny" to a first-time attendee or the like. Attendees were ecstatic and almost emphatic about reconnecting with colleagues as we did prior to the pandemic.
Epilogue

What do music festivals and a technology conference have to do with one another? It's a fair question.
My autumn is busy with travel – again. I'm looking forward to all of the trips I'm scheduled to make. However, when I took a look at the final program for this year's in-person Technology Exchange, I was giddy. Yup. That's right. Giddy. Giddy over the torture of what track sessions to choose between, giddy over the anticipated exhaustion of constant intellectual challenges, giddy about slightly dried-out cantaloupe cubes and warm iced tea.
The program is as rich and diverse as I've ever seen for a TechEX – kind of like a well-designed music festival. The topics cover the vast landscapes that trust and identity touch. The topic of diversity is tied together with the DNA of identity management and access management. The program is simultaneously content-broad and coherent.
We are poised to have the same kind of fellowship experience that I was able to witness at TNC this summer. It has been a while – too long – since we've shared the same spaces, drank the same coffee, and walked the same hallways and streets. When people tell you how they are doing in a video conference, the answer always feels thin, even if thoughtful. There's nothing like having old friends tell you how they are doing when they are standing right next to you. You can feel their answer, not just hear their answer.
We have a lot to understand and accomplish together. We have a lot of catching up to do. I hope you can join us for TechEX in Denver.