Workshop Helps You Champion Research Computing on Your Campus
Estimated reading time: 3 minutes
By Dana Brunson, Internet2 Executive Director, Research Engagement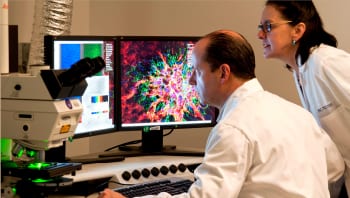 Do you support researchers using advanced computing, but need help? Are you or others at your institution interested in becoming more effective at enabling computational and data-intensive research?
The free Virtual Residency 2021 Summer Workshop on Introductory/Intermediate/Advanced Research Computing Facilitation, slated for June 7-11, 2021, can help. The workshop is designed to help you learn how to assist researchers while meeting a community of fellow research computing facilitators. There is no requirement to have participated in any past virtual residency event to join the workshop, and registration is open.
If you go, you'll be in good company. The success of the Virtual Residency Program (VRP) is reflected in the statistics. The program has already served 932 people from 373 institutions in all 50 U.S. states, three U.S. territories, and 11 other countries on five continents, including:
56 Minority Serving Institutions (15% of VRP institutions),
96 non-PhD-granting institutions, including four community colleges and three high schools (26% of VRP institutions),
103 institutions in 27 of the 28 EPSCoR jurisdictions (28% of VRP institutions),
248 of 333 Campus Champion institutions (66% of VRP institutions, 74% of Campus Champion institutions),
289 (77%) of the VRP institutions have had participants who collectively have participated in VRP activities multiple times.
Participating institutions have also experienced high Carnegie Classification ratings:
121 of 131 (92%) of R1 institutions (Carnegie Very High Research Activity),
75 of 135 (56%) R2 institutions (Carnegie High Research Activity)
These institutions have also received high marks by the U.S. News & World Report in their Best National University rankings:
ALL of the Top 10,
23 of the Top 25 (88%, because #25 is a 2-way tie),
45 of the Top 50 (85%, because #50 is a 4-way tie),
83 of the Top 100 (81%, because #97 is a 7-way tie),
116 of the Top 150 (77%),
137 of the Top 200 (68%).
(This takes into account all of the Virtual Residency activities: workshops in 2015-20, a couple of mini-workshops run separately by the University of California system, the Virtual Residency workshop planning calls, the Grant Proposal Writing Apprenticeship, and the Paper Writing Apprenticeship.)
The Virtual Residency Program is supported in part by the National Science Foundation Grant No. 1548562 "XSEDE 2.0: Integrating, Enabling and Enhancing National Cyberinfrastructure with Expanding Community Involvement" and is led by Henry Neeman, joint co-manager (along with Internet2's Dana Brunson) of the XSEDE Campus Engagement Program and Director of the University of Oklahoma Supercomputing Center for Education & Research. Check out last year's workshop materials.