NET+ Cloud Services: Shared Values, Shared Benefit
By Sean O'Brien - Associate Vice President, NET+, Internet2
Estimated reading time: 2 minutes
How can cloud services work well for higher ed and research and education (R&E) institutions?
That's really the point of the new NET+ Guide. It's designed to be a quick reference for you and your colleagues as you consider cloud services.
Great cloud services exist today. That's why the NET+ program exists. But, without help, cloud service providers often don't prioritize R&E community values with "off-the-shelf" cloud services when it comes to:
contract terms
features and functionality
service vetting
and peer support.
That's where the Internet2 NET+ Program and community comes in. Cloud services and service contracts vetted by peers and designed for R&E exist … and they are available to you.
Through NET+, higher ed leaders build better versions of leading cloud services for smooth implementation by R&E institutions. A group of peers works to "deconstruct and reconstruct" cloud services and contracts across six key dimensions and then reassemble the software and the contract for smooth procurement and implementation by R&E institutions.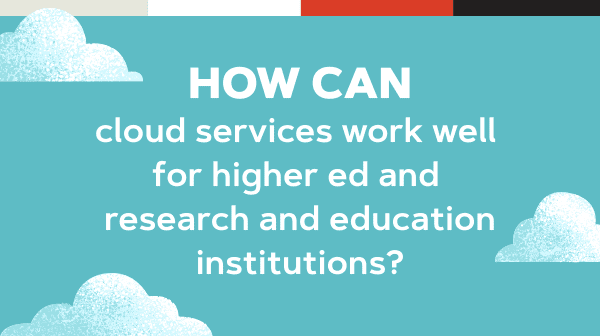 NET+ optimizes for:
features and functionality
technical integration
security & compliance
pricing
contract terms
deployment
This is why leading R&E institutions around the country power their cloud services – with NET+.
Download the new NET+ Guide to learn more about the NET+ advantage.