KCTCS COVID Response: Mobile WiFi Project
Estimated reading time: 3 minutes
By Therese Perlowski, Internet2 CAP Program Manager
With all eight major universities in Kentucky sending their students home to complete classes remotely, and the majority of community members asked to stay home, the necessity for strong broadband has never been more urgent.
In a largely rural state like Kentucky, where many homes and communities are "WiFi poor" and lack access to high-quality home connections, the Kentucky Community & Technical College System (KCTCS) is stepping up to offer solutions.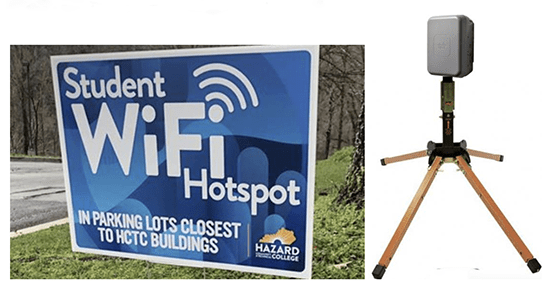 With over 74 locations throughout Kentucky, KCTCS is embarking on a mobile WiFi project to extend WiFi outdoors and deeper into parking areas of KCTCS buildings. Working to deploy quickly, the project mounts outside access points to construction sign stands or galvanized pipe to create mobile units that extend WiFi to the very edges of each location's parking lot.
Each client device receives a dedicated 5Mbps up-and-down connection, offering an immediate and high-quality solution to expanding access for community members and students trying to learn remotely from the safety of their vehicle. Further expanding their community outreach, KCTCS is also making all of their library services available online through the guest network. All virtual books, music, research databases, and educational resources are available to the community without a username or password.
Kenneth Burdine, Associate Chief Information Officer for KCTCS, shares, "You can't go into the library, but you can pull into the parking lot, download your book, and go home, all while staying safe." Burdine credits some of their success in deploying this project to a recent upgrade in Internet2 services from 2.5 Gbps to 10 Gbps connectivity, "with normal internet services so bogged down, the Internet2 access that we're providing to our students and community is really making the difference."
While the upgrade was planned and completed prior to COVID-19 shutdowns, it's been important to support the bandwidth needed to expand connectivity. Emphasizing their commitment, Burdine explains, "I believe the one thing that we all stand by and understand here at KCTCS is that it's our responsibility to the community to be leaders, because we are a part of our community in Kentucky and we want to do everything we can to support it."
Embracing its role as a community leader, KCTCS and its Mobile WiFi Project meet a critical need in this time of crisis. They provide safe and high-quality internet access for not only their 75,000 students, but for the university students and community members learning and working from home. "In the chaos that COVID-19 virus has brought to our nation, I am proud of how KCTCS has offered this outreach of caring to our communities across the state," Burdine shares.
Related articles and blogs: