Internet2's Bob Flynn Named 2021 E&I National Cloud Leadership Award Recipient
Estimated reading time: 2 minutes
Congratulations to Bob Flynn, program manager of cloud infrastructure and platform services at Internet2, for being recognized with the 2021 Lifetime Achievement Cloud Leadership Award by E&I Cooperative Services.
Flynn is being recognized for his ongoing commitment to improving technology's effectiveness across the higher education cloud community. In his acceptance speech, Flynn shared that he started his first technology user group in 2003 and has continued to seek community throughout his career and create it where he found none.
Watch Bob Flynn's
Acceptance Speech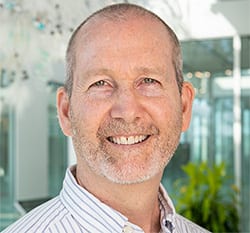 In his role at Internet2, Flynn manages the NET+ services available through Amazon Web Services and the Google Cloud Platform. Internet2 NET+ cloud services and solutions are specifically tailored for research and education because community members evaluate the services and develop contract terms and pricing.
"I couldn't work in a better industry for this. The way we share our successes and failures in higher ed IT is professional oxygen for me," Flynn said. "It's ultimately everyone else's work that E&I is acknowledging through this award – those who show up, those who ask questions, those who are willing to say 'I don't know how' or 'have you tried this,' those who are willing to share their ideas. I really love bringing those conversations together."
Connect with Bob Flynn and share your congratulations via LinkedIn or email. Learn more about the E&I National Cloud Leadership Award.