Internet2 Cloud Connect Expands to Include Oracle Cloud
By Linda Roos, Internet2 senior director for State and Regional Networks, and Matt Zekauskas, Internet2 senior engineer
Estimated reading time: 2 minutes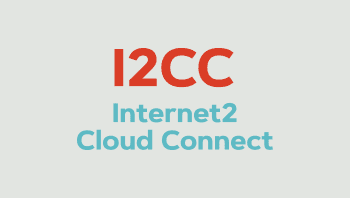 The Internet2 Cloud Connect (I2CC) service now includes 100 Gbps connections in Ashburn, Virginia, and Dallas, Texas, to Oracle Cloud Infrastructure (OCI) via OCI FastConnect.
I2CC is available to research and education (R&E) institutions connected to the Internet2 network. The service now enables institutions to use a combination of the Internet2 infrastructure along with their regional or state network infrastructure to obtain up to 5 Gbps of private Layer 2 and Layer 3 access to OCI via FastConnect at no additional fee from Internet2. (Oracle fees apply.)
The Ashburn connection ties to OCI's U.S. East region located in Ashburn, and the Dallas connection ties to OCI's U.S. West region located in Phoenix. Subscribers can use the Internet2 Cloud Connect Portal to establish new connections, which automates the provisioning process.
This new offering is part of Internet2's ongoing efforts to enhance the I2CC service and upgrade the interconnection capacity between the Internet2 network and the cloud providers accessible through I2CC. These efforts ultimately support rapid cloud adoption by researchers, IT professionals, and service providers across the R&E community.
Learn More
Internet2 and Oracle hosted a webinar on Tuesday, Sept. 27 to discuss the new offering. If you missed the webinar, don't worry! Watch a replay now.
Are you ready to use the I2CC service to reach Oracle OCI via FastConnect? Contact cloudconnect_request@internet2.edu.
ICYMI