Illinois Century Network Breaks Down Barriers for Digital Learning with New State Consortium
As schools begin the process of returning to in person learning, hybrid classrooms are the "new normal" for many districts. Hybrid learning requires schools to meet unprecedented bandwidth needs as each classroom navigates the reality of trying to support students in person, while also running live digital interactive platforms for students learning from home.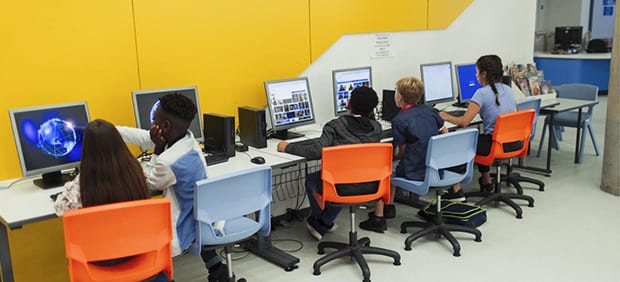 Beyond core instruction, teachers are also facilitating collaboration between students which requires additional devices and increased digital capacity. Enabling this high level of engagement and digital access for students is a challenge that the State of Illinois research and education network, Illinois Century Network (ICN), has risen to meet.
In July 2019, the ICN established a new state consortium of public K-12 school districts to provide secure Internet and broadband access at no cost. Funding for the consortium is provided by the Federal Communications Commission (FCC) Universal Service Program for Schools and Libraries (E-rate), state capital funding, and state appropriation.
ICN Solution Helps Connect Staff and Students
The shift from E-rate service provider to an E-rate consortium allows ICN, which is managed by the Illinois Department of Innovation & Technology (DoIT), to expand connectivity and security services for K12 schools. As a consortium, ICN frees districts from administrative and financial burdens by overseeing E-rate bid applications and comparisons, as well as managing the installation and maintenance of network circuits. Districts participating in the consortium receive fast and reliable broadband network connectivity. This has allowed some schools to reallocate their funds towards hiring additional classroom staff to better serve their communities.
Established just prior to the onset of the COVID-19 pandemic and all the challenges of distance learning that came with it, the consortium provided a solution to the incredible bandwidth required to keep staff and students connected. ICN was able not only to increase the circuit size and bandwidth capacity for consortium members but also to keep the networks secure using Distributed Denial of Service (DDOS) mitigation, intrusion detection, content filtering, firewalls, and Security Operations Center (SOC) monitoring. These services create the type of safe and unrestricted access that allows teachers and students the freedom to pursue creative and innovative learning strategies both from a distance and in the classroom.
In addition to a fast and reliable broadband network, the consortium is an intranet for all the statewide community anchor institutions ICN serves. By connecting school districts with community colleges and universities, high school students are able to participate in college credit courses via a fast and secure network. Schools can also access high quality content from local libraries, which are also eligible to participate through the consortium.
Robin Woodsome (ICN Field Operations Manager) shares, "The ICN is proud to provide a service which directly aligns with Governor Pritzker's statewide initiative 'Connect Illinois' to expand broadband access across the entire state and ensure students have the tools they need to succeed in the classroom. After all, ICN began as a network to service K12 teachers and students and this initiative significantly enhances that mission."
Illinois is home to 852 school districts, and it is ICN's goal to provide Internet services to every district. Over the course of the 2019-2020 school year, 442 issued Letters of Agency (LOA) were issued authorizing consortium membership. They are proud to provide a service that directly aligns with Governor Pritzker's statewide initiative "Connect Illinois" to expand broadband access across the entire state and ensure students have the tools they need to succeed in the classroom. As more districts are added to the consortium, ICN hopes to add more K-12 services and applications to continue to break down barriers to high-quality digital and in-person learning for the students of Illinois.
Network Statistics
On the web: https://www2.illinois.gov/icn/Pages/default.aspx
Community Anchor Program Member since: 2002
Affiliates:
Four-year Colleges & Universities: 94
Community/Vocational Colleges: 82
K-12 Schools: 1,703
Public Libraries: 168
Healthcare Institutions: 5
Museums, Science Centers, Aquariums, Zoos, etc.:8
Federal Government Buildings: 5
State Government Buildings: 1,151
Local Government Buildings: 379