Congratulations to SCinet Chair Matt Zekauskas and the 175+ Volunteers Building SCinet for SC22
By Amber Rasche - Senior Communications Specialist, Internet2
Estimated reading time: 3 minutes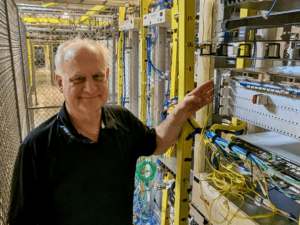 Internet2's own Matt Zekauskas, senior engineer, is the 2022 chair of SCinet – the SC Conference's high-capacity network! He's a legend at SC and a 23-year veteran volunteer with SCinet, best known for his advanced networking expertise, strong work ethic, and ability to help teams solve complex problems.
In 1999, Matt got his start in SCinet by instrumenting the wide-area circuits in support of cutting-edge workshops, demonstrations, and collaborative experiments at SC. By 2002, he was chair of the SCinet team that led the effort to measure the conference's real-time network performance and then display those metrics outside the SCinet booth on the exhibit floor. Matt also later served as chair of the SCinet WAN and DevOps teams.
Jim Stewart, chief technology officer for the Utah Education and Telehealth Network and former SCinet chair, helped raise Matt's name for the opportunity to serve as chair this year.
"It was my good fortune to work directly with Matt Zekauskas in my first SCinet assignment at SC11, and he was welcoming and very helpful," Stewart said. "For many years Matt has given his time and expertise to various SCinet committees, at times serving on more than one committee in any given year. Matt is personable and knowledgable, and we are well served by his SCinet leadership for SC22."
Matt is the second Internet2 staff member to be named SCinet chair, after Jeff Boote in 2011. Now at the helm of SCinet, he is leading more than 175 volunteers from academia, government, and industry as they work together to design and deliver the network for SC22. Speaking to the true scope of this incredible volunteer effort, those who have participated in SCinet know this mantra well: SCinet takes a year to plan, a month to build, a week to operate, and less than a day to tear down.
"Volunteering with SCinet and the SC Conference these past 23 years is really a testament to the experience and strong camaraderie among volunteers who come together to build a high-speed network with cutting-edge technology to satisfy ever-increasing demand," Matt Zekauskas said. "We work through the challenges together, learn new skills from one another, and make friends along the way, all in the spirit of ensuring the HPC and scientific community who gather at SC are well-served by this high-speed network. It's a career honor to be leading the SCinet team in support of SC22 – I'm so proud of all we've accomplished together, especially given lingering pandemic and supply-chain issues, and I look forward to sharing it with the community this month."

SCinet will officially go live just before the SC Conference kicks off November 13-18. If you're in Dallas for SC22, stop by the SCinet booth (#2450) to see this one-of-a-kind network in person.
And whether in-person or virtually, please join us in congratulating Matt Zekauskas and the entire SCinet team on their collective achievement!
Read More About This Human of SCinet
You can read more about Matt's background, his experiences as a SCinet volunteer, and some fun facts in this 2020 feature story, Humans of SCinet: Q&A with SC20 Technical Director Matthew Zekauskas.
ICYMI