MS-CC Events
View upcoming Minority Serving – Cyberinfrastructure Consortium events, workshops, and webinars and access past presentations.
Join Us for a Series of Cybersecurity Workshops
The Minority Serving – Cyberinfrastructure Consortium (MS-CC) and Internet2, in collaboration with the American Indian Higher Education Consortium (AIHEC), are organizing a series of cyberinfrastructure (IT for research) and cybersecurity workshops on the campuses of historically Black colleges and universities (HBCUs) and tribal colleges and universities (TCUs).
CI Plan Community of Practice
As an outcome of the Minority Serving – Cyberinfrastructure Consortium's (MS-CC) Cyberinfrastructure (CI) 101 webinar series, we will begin hosting a CI Plan Community of Practice for IT leaders, staff, faculty, and/or others leading, interested in, or contributing to the development of Cyberinfrastructure Plan documents for their campus. Discussion content will be decided by and for participants who join regular community discussions, with logistical support and community coordination provided by the MS-CC.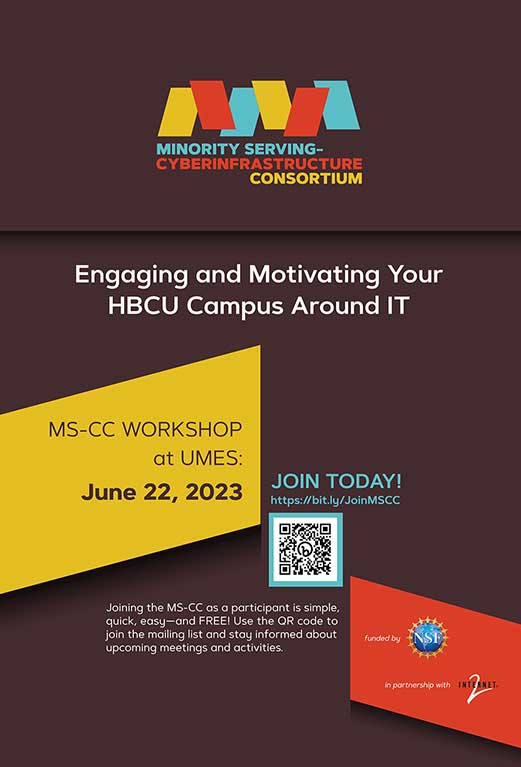 The CI Plan Community will gather on the third Tuesday of each month on Zoom from 12-1 p.m. E.T. The first gathering on May 16 supported a community brainstorming session to prioritize discussion topics for subsequent gatherings.
Zoom details will be distributed via email to the MS-CC mailing list. Not an MS-CC participant? Joining the MS-CC as a participant is simple, quick, easy – and free!
Mark your Calendars for Upcoming CI Plan Community Gatherings

August 15, 2023
September 19, 2023
October 17, 2034
November 21, 2023
December 19, 2023
Questions about the community can be directed to MS-CC's Assistant Director for CI Facilitation, Lauren Michael at lmichael@internet2.edu
Past Webinars and Workshops
MS-CC Cyberinfrastructure and Cybersecurity Workshops
The MS-CC and Internet2 hosted a series of workshops on the campuses of HBCUs and TCUs over the last year. View information about the sessions and download presentations from each event:
Get Caught Up!

Did you miss a monthly MS-CC All-Hands Meeting? Watch recordings with the MS-CC playlist on the Internet2 YouTube channel.
Cyberinfrastructure (CI) 101 Webinar Series
The MS-CC hosted webinars to encourage, educate, and empower our community participants with tools and resources to make an impact on their campus IT infrastructure:

Jan. 27, 2022: This webinar featured "Open Meeting and Updates," which provided information about the NSF Pilot Center of Excellence Award, MS-CC needs and requirements, stakeholders, and the next steps for the community to get involved. The moderators facilitated a Question and Answer session about the MS-CC for participants.
Watch the video and download the slides.

March 18, 2021: This session featured "Connecting the Dots: Using Campus IT Infrastructure Survey Data to Support Your Institutions' Research Goals." It offered the opportunity to learn about how this data and feedback on-campus IT infrastructure needs to help you support your institution's research mission. View the recording.

Feb. 3, 2021: This webinar focused on data and computing infrastructure topics. View the recording and download the presentation.