Regional Network Spotlight
UCAR: Crossing the Continental Connectivity Divide
By Therese Perlowski
CAP Program Manager

Providing high-performance network connectivity across Colorado's continental divide has long been a challenge. But in a time when access is more critical than ever, the University Corporation for Atmospheric Research (UCAR) is taking action.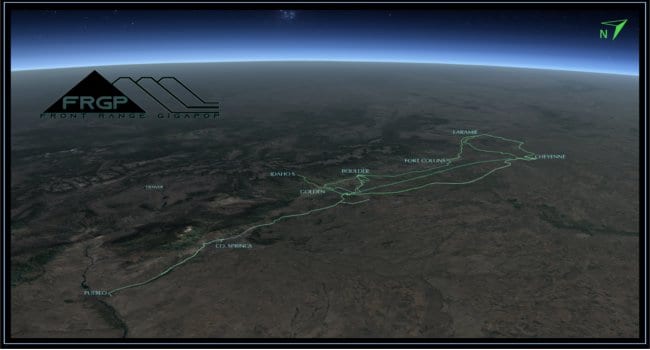 Focusing on the economic growth and development potential that improved network access offers, UCAR applied for a National Science Foundation (NSF) Campus Cyberinfrastructure grant to develop high-speed reliable networking infrastructure for the Western Slope Rocky Mountain region of Colorado.
Through the creation of physical infrastructure, UCAR hopes to create opportunities for rural and underserved communities in the region to build a more diverse workforce and to ensure that students are offered the highest caliber educational opportunity and resources. Fabian Guerrero, a network engineer at UCAR, shares, "The importance of the project really originates from the individuals that live in these communities. We can support diversity, meet people where they are, and enable them to do what they do best from where they are."
"The importance of the project really originates from the individuals that live in these communities. We can support diversity, meet people where they are, and enable them to do what they do best from where they are." — Fabian Guerrero, Network Engineer at UCAR
As a first step, UCAR began reaching out to stakeholders across the Western Slope region, including Fort Lewis College in Durango, Western State University in Gunnison, Colorado Mesa University in Grand Junction and Colorado Mountain College in Glenwood Springs, as well various locations within the Colorado Community College System.
Outreach focused not only on trying to better understand the needs and priorities of the smaller universities in the region, but also on bringing in broader communities and all the community anchor institutions that could be connected through UCAR to provide feedback.
Marla Meehl, the Section Head of Network Engineering and Telecommunications Section (NETS) for UCAR, explains, "We hoped to set up meetings to really engage in conversations and explore in their opinion, [and find out] what the best solution for that specific community would be."
The onset of COVID-19 stalled physical meetings and gatherings, but the pause provided valuable time and space to develop more significant relationships with partner communities. "We were quickly reminded what a big state it is and how little many of the people we were working with knew about us. So taking time to really build relationships and build trust has been really critical," Meehl shares.
In building trust, UCAR took a step back to truly focus on listening. "One of the things that's come through in these conversations is the last thing they need is somebody coming over the divide and saying, 'this is what you need to do.' We really had to stop talking and listen to better understand where they were, what they'd already done to find the synergistic pieces where we can complement each other and capitalize on our individual expertise," Guerrero explains.
Through their conversations, UCAR realized that there were already several existing projects to build fiber and improve connectivity in the region. As a result, the project shifted in a different direction, Meehl shares. "While it started that we were going to build this big new BiSON-West ring, it has really morphed into interconnecting multiple projects that are already underway and really act[ing] as a connector and a facilitator to tie those disparate projects together and bring them to the FRGP," she said.
By leveraging university networks and existing fiber projects by the Northwest Colorado Council of Governments (NWCCOG), Region10, Southwest CoG, Colorado Department of Transportation (CDOT), and CenturyLink, the project will actually be able to provide broader connectivity and reach even more anchor institutions, in particular K12 institutions, than originally expected.
In light of COVID's impact, UCAR is also asking for funds to beef up connectivity to local internet service providers. Meehl explains, "While the focus has always been community anchor institutions, no one can access them right now because they're all at home. So one of the things we're asking for is if we could get those local ISP's faster connectivity, which will help the home users get faster connections." The team is exploring non-traditional funding sources for these activities.
As the project moves forward, Guerrero shares, "This model actually does a far better job of integrating the communities as a whole. By acting more as a facilitator and focusing more on the relationship side of the project, UCAR has been able to draw attention and interest to the area. So when the community is standing up saying we need this, there's a desire from surrounding stakeholders to make a difference there." Aiming to make some concrete progress in the next few months, the project remains a priority for UCAR. "We're really excited about the new direction. It'll be bigger, reach more people, and be more impactful than what we originally proposed," Meehl explains.
Network Statistics:
Website: https://www.ucar.edu/, https://www.frgp.net/ 

Community Anchor Program member since: 07/01/09


Twitter: https://twitter.com/UCAR_News
Facebook: https://www.facebook.com/NCAR.UCAR/
Institutions served: 

Colleges and Universities: 19
Federal Research Organizations: 5 (UCAR, NEON, NOAA, NREL, USDA) 

K12: 4 school districts

State and Local Government Buildings: 3