Internet2 Next Generation Infrastructure Update: 29 Packet Nodes Connected by Forty 400G Links; GDT Install Completes on Schedule
Estimated reading time: 3 minutes
By Chris Wilkinson, Internet2 Network Services Director of Planning and Architecture
In the two weeks since we reported the first 400 Gbps backbone connections on the Internet2 network, our team has made substantial progress toward fully deploying the hardware components of the Next Generation Infrastructure (NGI) platform. GDT has completed an on-time physical installation of the packet hardware and the Internet2 engineering team is rapidly provisioning routers and the associated backbone links. At the close of last week, 29 sites across the continental U.S. were connected by forty 400 Gbps circuits.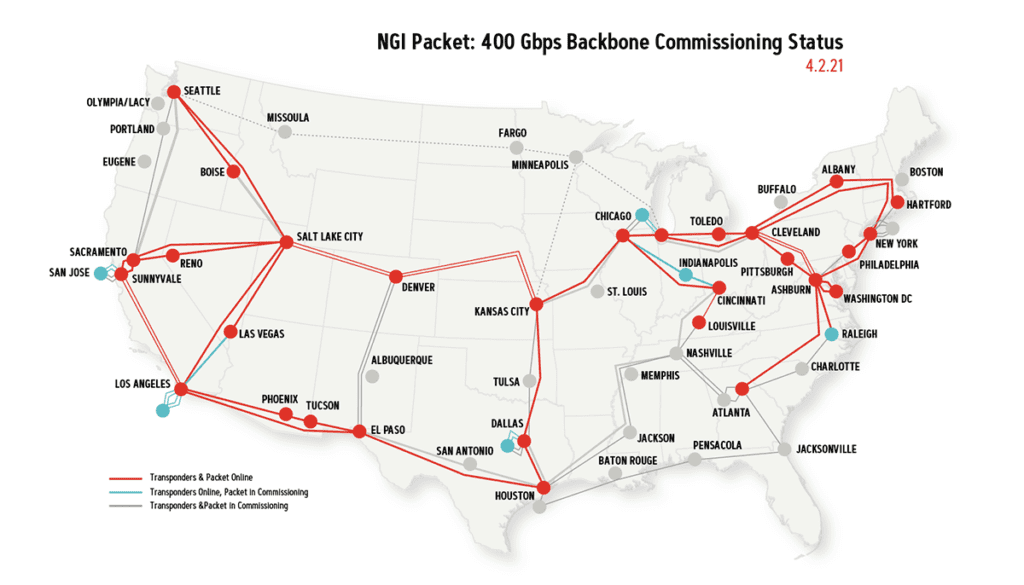 Each red line on the map represents a 400 Gbps connection between Cisco 8201 routers in adjacent locations. These 400 Gbps Ethernet links all traverse Ciena Waveserver 5 generated 600 – 800 single-carrier optical circuits, the first of which were commissioned in February 2021. As more physical connectivity comes online, link-layer connectivity is being established between additional Cisco 8201 routers on the topology.
Sample CLI view from a Cisco 8201 router in Sacramento, CA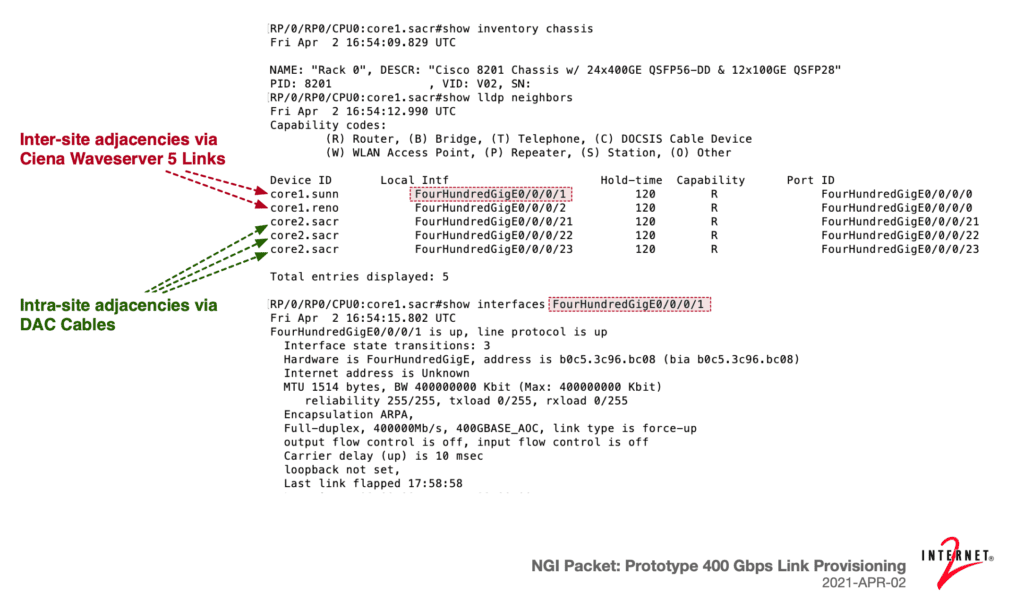 What's Next: Software Automation and Orchestration, Testing and System Validation, Connector Integration
It has been just one year since we established our new Systems and Software group to lead the critical software automation and orchestration layer that will enable many of NGI's new capabilities. The team has made substantial progress in modelling the new network backbone and their work is underpinning the configuration of the new network exclusively. This is a major step forward, too. Through the Cisco Network Services Orchestrator (NSO) tools we now have a level of consistency and standardization that will become key for future service improvements.
As each link-layer adjacency is created over the optical platform between core nodes, the NGI team is now using Cisco NSO exclusively to provision the Cisco 8201 routers with prototype configurations, including the IS-IS adjacencies and VRF (Virtual Routing and Forwarding) instances that will be leveraged as part of platform testing.
Sample CLI view from a Cisco 8201 router in Ashburn, VA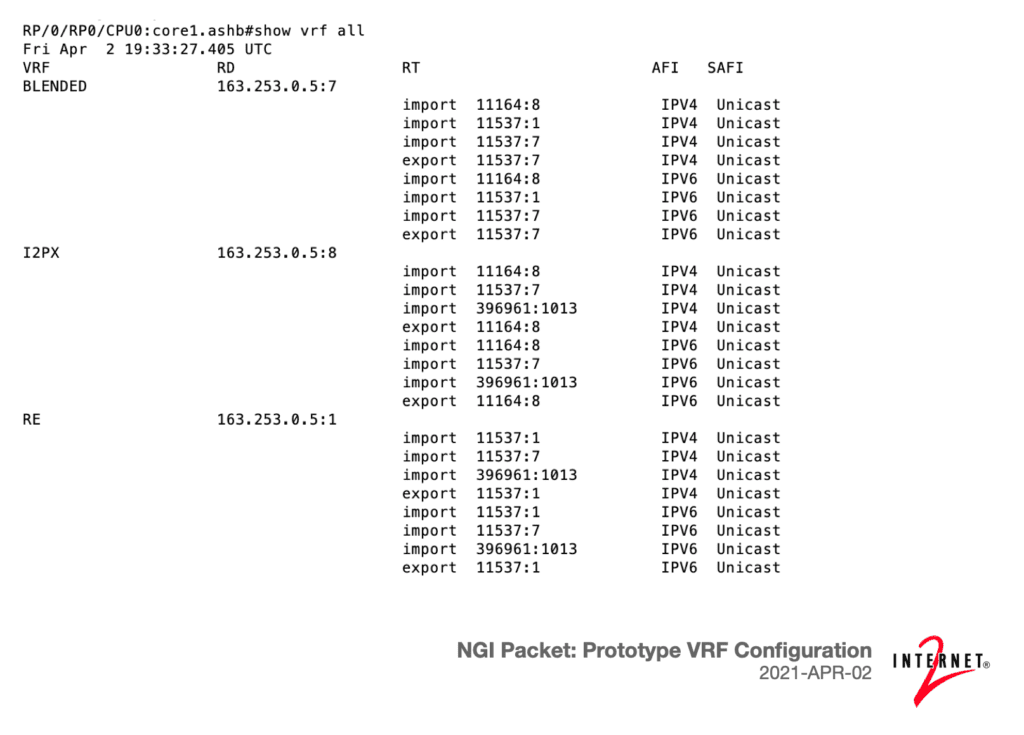 With the platform coming online, testing and system validation is expected to continue on schedule through April 2021 with connector integration planned to begin in mid-May through June. More on this in future releases.
Internet2 Community and Partners' Recognition
This work is made possible by the recent completion of the packet equipment deployment by Internet2's installation partner, GDT. This effort included the physical placement of routers, Waveserver 5 transponders, management network, and perfSONAR hardware within Internet2's colocation facilities. This work was completed on time and on schedule before the start of April 2021. Considering the contracts were just completed in October 2020 during the pandemic, this is an amazing accomplishment!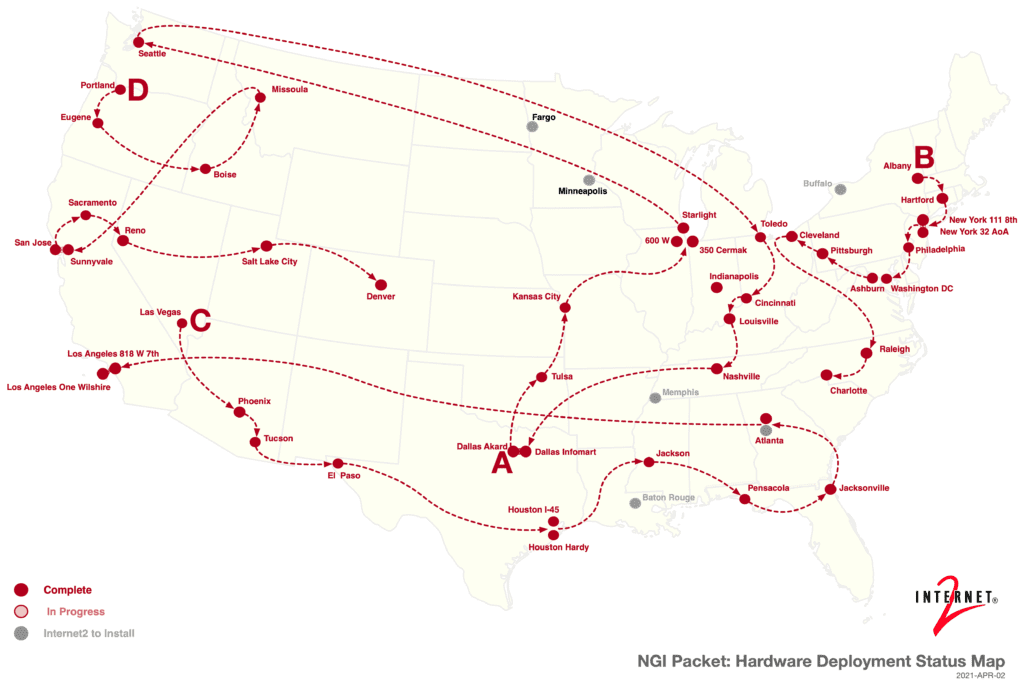 The above activities are the culmination of thousands of hours of effort from both the Internet2 community and teams in many organizations, including Internet2, GlobalNOC at Indiana University, Ciena, Cisco, Lumen, and GDT.