Highlights from the HBCU Technology Conference 2021: Doing Together What We Can't Do Alone
By Maya Gurarie, Digital Experience Specialist
Estimated reading time: 2 minutes
Collaboration, innovation, and adaptation are some of the themes addressed at the HBCU Technology Conference 2021 on Sept. 28th and 30th. This conference is the first of its kind, dedicated to the unique challenges Historically Black Colleges and Universities (HBCUs) face in keeping up with technical advancements and fostering innovation. The tracks for IT staff, faculty, administration, and students provide learning and networking opportunities across the higher education campus.

Internet2 is dedicated to lifting all participating institutions by advancing cyberinfrastructure for R&E across diverse fields, disciplines, and communities.
Ana Hunsinger, vice president of Community Engagement at Internet2, Dr. Damian Clarke, CIO at Meharry Medical College, and Dr. Urban Wiggins, vice provost for Decision Science and Visualization in the Office of Academic Affairs at the University of Maryland Eastern Shore, are presenting "Internet2 and the Minority Serving-Cyberinfrastructure Consortium" at 1 p.m. ET during the Sept. 28th event.
The Minority Service-Cyberinfrastructure Consortium (MS-CC) envisions a transformational partnership to promote advanced cyberinfrastructure (CI) capabilities on HBCU, HSI, TCU, and MSI campuses, with data; research computing; teaching; curriculum development and implementation; collaboration; and capacity-building connections among institutions. Learn more about MS-CC.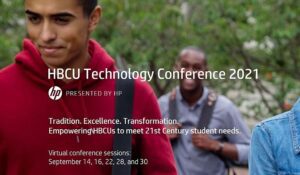 Dr. Clarke is also presenting "The Role of Technology in Digital Transformation: Part 2" on 9/30 at 11 a.m. ET. Dr. Deborah Dent, CIO at Jackson State University and principal investigator with the MS-CC, will join Dr. Clarke in this panel. Check out the conference agenda for more sessions.
Dr. Clarke gave his presentation on September 16 entitled, "Minority Serving Cyberinfrastructure Consortium (MS-CC): Doing Together What We Can't Do Alone." Clarke discussed the efforts and partnerships of the Consortium with Internet2 to reduce the gap between minority serving institutions and the global research and education ecosystem. The MS-CC is a transformational partnership to advance Cyberinfrastructure capabilities on HBCU, Hispanic serving institutions (HSI), and Tribal Colleges and Universities (TCU) campuses with data, research, computing teaching, collaboration, and capacity building among institutions.

You can still register for the conference at no cost as an affiliate organization and replay conference presentations within 30 days.