Q&A with Pankaj Shah: OARnet Among the 'First to 400G' on Internet2's Network
By Amber Rasche - Senior Communications Specialist, Internet2
Internet2 recently unveiled its fifth-generation backbone, known as the Next Generation Infrastructure (NGI). NGI interconnects with 37 state and regional networks and serves every state in the U.S. Among these 37 are the first five to upgrade to 400 gigabits per second connectivity: Florida LambdaRail, Indiana GigaPOP, Mid-Atlantic Crossroads, Ohio Academic Resources Network, and Utah Education and Telehealth Network. In this "First to 400G" blog series, we spotlight each of these networks and how NGI's new capabilities and capacity meet the needs of the broader research and education communities.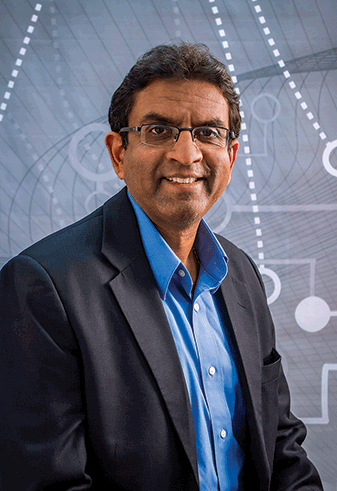 Pankaj Shah is the executive director of the Ohio Academic Resources Network (OARnet). In this Q&A, Pankaj discusses OARnet's mission in support of the state's higher education institutions and their partners, the opportunities and challenges driving OARnet constituents' connectivity needs, and what's next on the horizon.
Tell us more about OARnet. What is your organization's mission? What is the scope of the communities and institutions you serve – in other words, who depends on your infrastructure and how do they use it?
Pankaj Shah: The Ohio Academic Resources Network (OARnet), part of the Ohio Department of Higher Education's OH-TECH consortium, strives to ensure Ohio's role as a technology leader by implementing next-generation technologies in our network to meet the needs of research, education, government, libraries, and health care communities. By teaming with our communities to develop technology solutions designed to address the demands of an ever-changing environment for the delivery of services, OARnet facilitates innovation as a competitive edge in Ohio's economic development and prominence as a leader in research and development.
OARnet partners with two state-led initiatives, InnovateOhio and BroadbandOhio, which seek to resolve the digital divide in Ohio by addressing issues of accessibility, affordability, and ease of technology adoption. From small towns to major metropolitan areas in Ohio, we are working to expand the middle mile of the broadband network to reach more communities and also drive down the cost of the last mile of service.
These initiatives are built on public/private partnerships that are critical for their success. A broadband expansion project in the city of East Cleveland, for example, relies on robust collaboration between private entities such as Microsoft and GE Lighting, public entities such as OARnet, Cuyahoga County, Connect-ITC, and the East Cleveland City Schools, and non-profits like PCs for People, just to name a few.
OARnet has been an Internet2 member since 1997 and interconnected with Internet2's backbone since 1999. From your perspective, how has being part of the community supported your mission and constituents?
Pankaj Shah: At the heart of it, OARnet is a research and education network. With the support of Chancellor Randy Gardner and the Ohio Department of Higher Education, we are the Internet2 connector in the state of Ohio, which has offered our colleges and universities the ability to easily collaborate with hundreds of other higher education institutions across the country. These collaborations have helped advance the endeavors of our research-intensive institutions, which include five R1 (The Ohio State University, University of Cincinnati, Case Western Reserve University, Kent State University, and Ohio University) and eight R2 institutions, as well as entities such as the Wright-Patterson Air Force Base.
Over the last few decades, OARnet has become a national leader in advanced networking. We were on the vanguard of implementing 100 Gbps connectivity and are now an early adopter of 400 Gbps. In addition, we were one of the first states to offer Internet2 connections to the K-12 education community. OARnet offers access to unique resources for Ohioans, such as the 2022 Presidential Primary Sources Project that features virtual field trips to historic sites and interactive discussions about presidential legacies.
What was your network capacity prior to the recent upgrade, and how did you know it was the right time to upgrade to 400G?
Pankaj Shah: Previously, OARnet had two 100 Gbps connections in Cincinnati and Cleveland that had approached over 50% utilization of our circuits. In the upgrade to 400 Gbps, we will provide dedicated services for peering, research traffic, and cloud computing services. Furthermore, COVID-19 has expedited our needs: all of our higher education members will have at least 10 Gbps last-mile capacity by the end of 2022, thanks to an allocation from the Ohio Department of Higher Education through the Governor's Emergency Education Relief Fund. Because of the growth we are experiencing in Ohio, we will have two 400 Gbps connections, one in Cleveland and one in Cincinnati, and break them up in four ways, providing a total of eight portals. This is a unique configuration. In addition, we will set up a statewide 100 Gbps test network for Ohio.
Tell us about some of the current opportunities and/or challenges driving your constituents' connectivity needs, including capacity and other capabilities. Specifically, what are some of the research and education drivers for additional capacity?
Pankaj Shah: One of the educational drivers is the growing need for cloud connectivity. Schools are using services such as AWS, Oracle, and Google, and we have seen an increase in cloud computing demand through Internet2.
During the pandemic, more universities are conducting research on health, cybersecurity, artificial intelligence, and other topics. The Internet2 connection also continues to be critical for supporting major national and international research collaborations.
Researchers at The Ohio State University, for example, are able to participate in the ATLAS collaboration that is conducting groundbreaking particle physics research at the Large Hadron Collider at CERN in Geneva, Switzerland. Ohio State scientists also were able to attract $15 million in National Science Foundation funding for a new Imageomics Institute to advance research in the biomedical, biological, and agriculture sciences. The Ohio Supercomputer Center, Ohio State, and Case Western Reserve University are collaborating on the new $20 million NSF-funded AI Institute for Intelligent Cyberinfrastructure with Computational Learning in the Environment (ICICLE), which will render AI more accessible to everyone. Elsewhere in Ohio, Cleveland State University and Case Western Reserve University have received a $3.1 million grant from the Cleveland Foundation to support their Internet of Things Collaborative, and University of Cincinnati researchers attracted $221 million in external funding during FY 2021, up from $207 million in FY 2020.
The need for innovation in health care also is driving some of the demand. The Center for Global Health and Diseases at Case Western Reserve University, for example, develops international partnerships to advance research on malaria, schistosomiasis, and filariasis and also collaborates with other programs at the university that are tackling a variety of health issues.
What's next on the horizon for OARnet? What current or upcoming initiatives are you most excited about?
Pankaj Shah: We are very enthusiastic about new federal funding coming to the state of Ohio that will support broadband network expansion. The state is slated to receive $252 million from the U.S. Department of the Treasury, and it is also awaiting a portion of the funding, expected to be between $1 billion and $2 billion, from the $1.3 trillion federal infrastructure program. OARnet is part of the technology ecosystem that will play a role in harnessing this new funding to advance connectivity in Ohio, following the lead of BroadbandOhio.
In late 2020, the Ohio Department of Higher Education worked with OARnet to utilize $12.1 million from the Ohio Governor's Emergency Education Relief (GEER) Fund to increase available content and broadband and internet speeds at colleges and universities throughout Ohio. The GEER Fund is part of the federal Coronavirus Aid, Relief, and Economic Security (CARES) Act.
With the award, OARnet established the Last Mile Enhancement Program to increase broadband speeds by 1,000% at 41 Ohio colleges and universities and double the internet subscriptions at connected member institutions throughout the state for two years. To accomplish this, we have worked with commercial "last mile" providers to upgrade connections to our ultra-fast 5,500-mile fiber optic backbone at each of the 41 institutions. The connection speeds, previously no faster than one Gbps, are increasing to 10 Gbps.
In October 2021, OARnet received a National Science Foundation planning grant for the Virtual Research-Education Ohio (VROhio) program, which will build on the upgraded internet capabilities made possible by the GEER Fund. OARnet and its partners are developing a network of science, technology, engineering, and mathematics (STEM) training and research resources for smaller higher education institutions in the state of Ohio.
The Ohio Supercomputer Center and the Case Western Reserve University Electron Microscopy Facility are initial resource providers on the project, which is also supported by national entities EPOC, The Quilt, Internet2/InCommon, and Trusted CI.
We also are building a dedicated test infrastructure to help us evaluate and then introduce more leading-edge technologies to our network.
Is there anything else you'd like to share with the research and education community about OARnet?
Pankaj Shah: OARnet values its involvement in national discussions and its role in thought leadership, both in the areas of research networking and broadband expansion. OARnet leaders have participated in national forums and working groups and have served on the boards of Internet2 and The Quilt. Working with and learning from our distinguished peers in the world of research and education networks has greatly benefitted the state of Ohio and the communities OARnet serves.
Read the other Q&As in the "First to 400G" series
ICYMI