Establishing the Governance Structure You Need: 3 Tips from NET+ ServiceNow Subscribers
By Apryl Motley - Technical Writer & Communications Lead, Internet2 Trust and Identity/NET+ Service
Estimated reading time: 4 minutes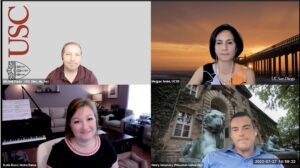 According to a panel featuring NET+ ServiceNow institutions, good governance models are critical to IT project planning and prioritization in the resource-challenged environment in which the research and higher education community currently operates.
Last month during a NET+ I2 Online webinar, "You Need Structure: A Panel Discussion with Internet2 NET+ ServiceNow Institutions on Governance," panelists from the University of California San Diego, University of Notre Dame, and Princeton University shared their experiences leveraging the capabilities of Internet2 NET+ ServiceNow to establish and implement governance structures. Mitchell Pautz, senior IT service management analyst at the University of Southern California, moderated the discussion.
Here are three key takeaways from the panel:
Start in the middle and be inclusive. "To implement a governance structure, I would actually start with a small group at the mid-level," said Katie Rose, assistant vice president for IT Strategic Excellence and Engagement at the University of Notre Dame. "This group is the most important to the rollout because they will help drive consistency and build the common use case, which will make people feel comfortable that their questions are being asked by similar people and taken seriously,"
"One of the most key factors is making sure a variety of constituents at all levels in the governance process have the ability to shape it so that they can get the most out of it, and it's not just one set of voices driving things forward," she continued. "It also should have tiers of approval. You have to enable some empowerment on minor things so that you can move forward and not get stuck in a quagmire of bureaucracy."
Implement demand management. "We use ServiceNow Strategic Portfolio Management (SPM)," said Henry Umansky, associate director of Service Management at Princeton University, "and one tool that's part of SPM is called demand management, which actually assists us in figuring out what projects we should take on at what time."
"Based on resource availability, skill set, and frankly timing, demand management helps us with administering our distributed IT model," he continued. "Every academic and administrative department has their own needs, resource availability, and priorities, so it becomes a struggle figuring out which projects we take on, and utilizing demand management has helped us a lot."
Use reports and establish guidelines. "We can't get enough of reports, and we have a mix of out-of-the-box and custom reports," said Mojgan Amini, director of Process Management & Continuous Improvement at the University of California San Diego. "When I say custom, we use the tools in ServiceNow to make the report fit our needs. We're not doing anything that's disrupting what the tool actually offers us. For example, there's a feature that allows you to connect to information across the entire ServiceNow ecosystem, so we use it and customize what we can."
UCSD uses ServiceNow to operate a support portal, and ensuring consistent operations "really starts with some guidelines we put into place, such as the service transition checklist," Amini explained. For a service to transition into operation, there are conditions that must be met and information that is required. "Regardless of whether it's an IT service or it's a functional area providing the service," she continued, "we make sure that within ServiceNow those fields are filled out with the names of the people who have specific roles and responsibilities."
If you missed the panel, don't worry! You can still benefit from all the insights our panelists shared on using ServiceNow to implement effective IT governance structures.
We welcome suggestions of topics for future programs. Got ideas? Contact us at netplus@internet2.edu.