Internet2 Partners with the U.S. National Archives & Presidential Libraries to Offer Summer and Fall Distance Learning Series
Estimated reading time: 3 minutes
By Therese Perlowski, Internet2 CAP Program Manager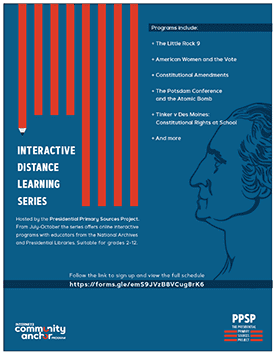 With summer camps going virtual and schools reopening in the fall uncertain, the need for high-quality and accessible distance learning is greater than ever.
In response, the Internet2 Presidential Primary Sources Project is partnering with the U.S. National Archives and several presidential libraries to expand distance learning opportunities for students and teachers in the coming months.
Offering both teacher professional development sessions and a variety of programs for students in grades 2-12, the sessions will begin in July and continue through the end of October. All programs are free, interactive, and standards-based.
Sign up for any or all of these upcoming distance learning programs that are available for students and families:
SUMMER STUDENT PROGRAMS
July 28, Documents & Artifacts from the Reagan Library, Grades 3-6
July 30, Rock-n-Roll at Bush 41, Grades K-2
August 4, The Potsdam Conference and the Atomic Bomb, Grades 7-12
August 6, Presidential Transportation, Grades 2-6
August 11, The Little Rock 9 with former student Dr. Terrence Roberts, Grades 6-12
August 13, Who's in Public Service?, Grades 2-5
August 18, American Women and the Vote, Grades 3-6
August 20, What's in a Museum Collection?, Grades 2-6
August 25, Amendments to the Constitution: You Do the Math, Grades 6-12
FALL STUDENT PROGRAMS
September 8, Understanding the Great Depression, Grades 7-12
September 10, Laura Ingalls Wilder at the Hoover Library, Grades 3-8
September 14, 16, or 18, "George to George": Examples of the Constitution from George Washington to George Bush, Grades 4-8 (11am ET)
September 15, Camp David & Beyond: The Middle East Peace Process from Carter to Clinton, Grades 9-12
September 17 – Constitution Day, The Charters of Freedom: Building a More Perfect Union, Grades 3-6
September 24, Growing Up an Eisenhower, Grades K-5
September 29, Understanding Tribal Sovereignty, Native Lands, and the Importance of Repatriation, Grades 7-12
October 1, Georgia on my Mind: President Carter
October 6, Tinker v. Des Moines: Constitutional Rights at School, with Mary Beth Tinker, Grades 7-12
October 8, Red Scare, Spies Among Us?, Grades 7-12
October 13, Bootleggers, Flappers, and Gangsters – Prohibition, The Noble Experiment, Grades 6-12
October 15, Use it Up! Sacrifices on the WWII Home Front, Grades 6-8
October 22, Chemistry Roadshow, Grades 3-8 (11am ET)
October 27, Truman's Life Through Objects, Grades 3-8
October 29, Attic Artifacts, Grades 4-8
PROFESSIONAL DEVELOPMENT WEBINARS FOR EDUCATORS
July 21 – 23, What Makes a Winning Presidential Campaign?, Teachers Grades 6-12
September 22, Presidential Powers and Precedents: What's the Limit?, Teachers Grades 6-12
Individual students and families can log in using the link that will be provided following registration. Sessions will also be live-streamed from the Presidential Primary Sources Project Facebook page.
Find more information about each program on the National Archives website.
Related articles and blogs: