NET+ Cloud Services: Most Stay for the Peer Community, Even if They Came for the Contracts …
By Bob Flynn - Internet2 Program Manager, Cloud Infrastructure & Platform Services
Estimated reading time: 2 minutes
Do you have your peers' support and an advocate with cloud service providers?
When we talked to professionals at long-time NET+ subscriber institutions, an overwhelming sentiment was, "We got involved due to the customized contracts and peer-vetted services, but we're still involved because of the communities of practice for cloud-related knowledge, best practices, and a collective voice in the cloud industry."

Grab a quick look at the NET+ Guide to see how you might stay for the community, even if you come for the contracts.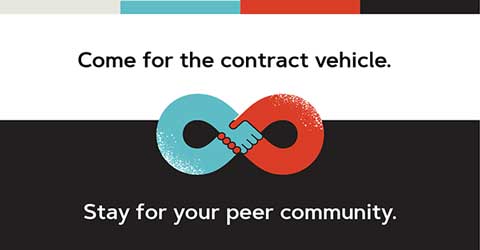 With a community of peers from institutions across the country collaborating in working groups, sharing best practices, and working together through common challenges, each individual institution is able to do more, better and faster. NET+ is your workforce and productivity multiplier.
Shelley Rossell, lead information security engineer at The University of Chicago, knows the value of the community first-hand: "Having the NET+ forum for peers to share what they are doing in this space—both challenges and solutions—has tremendous value."
Further, long-time NET+ subscribers value the collective "voice in the cloud industry" that NET+ provides. NET+ services, successfully vetted through a peer-driven service evaluation process, are only possible through collective advocacy that achieves the key requirements institutions need to adopt cloud services smoothly: contract terms, pricing, features and functionality, technical integration, and security and compliance requirements. And, the investments made in cloud services through NET+ are actually an investment back into sustaining the community it fosters.
Tom Lewis, director, academic experience design & delivery at the University of Washington, acknowledges the important role NET+ plays in facilitating relationships between cloud vendors and the R&E community: "Working with other universities through NET+ and its advisory boards has proven incredibly effective in creating true partnerships with vendors that help them better meet our needs."
These are the same principles that shaped Internet2's founding 25+ years ago as a massive advanced network collaboration. Similarly, NET+ has grown into a significant cloud services collaboration. Advocating and mobilizing for the advanced technology needs of research and education (R&E) institutions is a large reason Internet2 exists, and NET+ extends that purpose to the cloud: the collective voice of R&E is a larger, more effective voice.