Internet2 Monitoring Tropical Storm Zeta
Estimated reading time: 2 minutes
By Chris Wilkinson, Internet2 Director of Network Planning and Architecture
Last Updated October 27, 2020 at 8:25 AM EDT
Internet2 is closely monitoring the progress of Tropical Storm Zeta, where a hurricane warning has been issued for eastern Louisiana and into Mississippi, and a tropical storm warning has been issued for Alabama and Florida's panhandle.
According to the National Hurricane Center's public advisory issued today at 8 a.m. EDT, Zeta is expected to be a strong Category 1 hurricane with winds of 85 mph as it moves toward the Louisiana and Mississippi coasts by Wednesday.
The Internet2 NOC is actively monitoring and managing network services in anticipation of potential impact and reduced resiliency along the Gulf Coast. An internal NOC ticket has been opened (PRB0046269) to track all Zeta related activities and to provide a tie-back for member tickets opened as a result of the potential hurricane impacts.
The Internet2 NOC is reachable 24 hours a day, 365 days a year:
Considering the strength of this hurricane and the amount of projected rainfall, it is possible we will see service impacts to a major part of the community infrastructure in Alabama, Georgia, Louisiana, and Tennessee. Should issues occur, traffic will be rerouted through alternate paths; this could place increased demands on infrastructure in Houston, Kansas City, Chicago, and Atlanta. Internet2 will work diligently with our partners to restore any impacted services as soon as it is safe to do so.
The map below demonstrates where peak potential rainfall overlays with the Internet2 community in the landfall zone: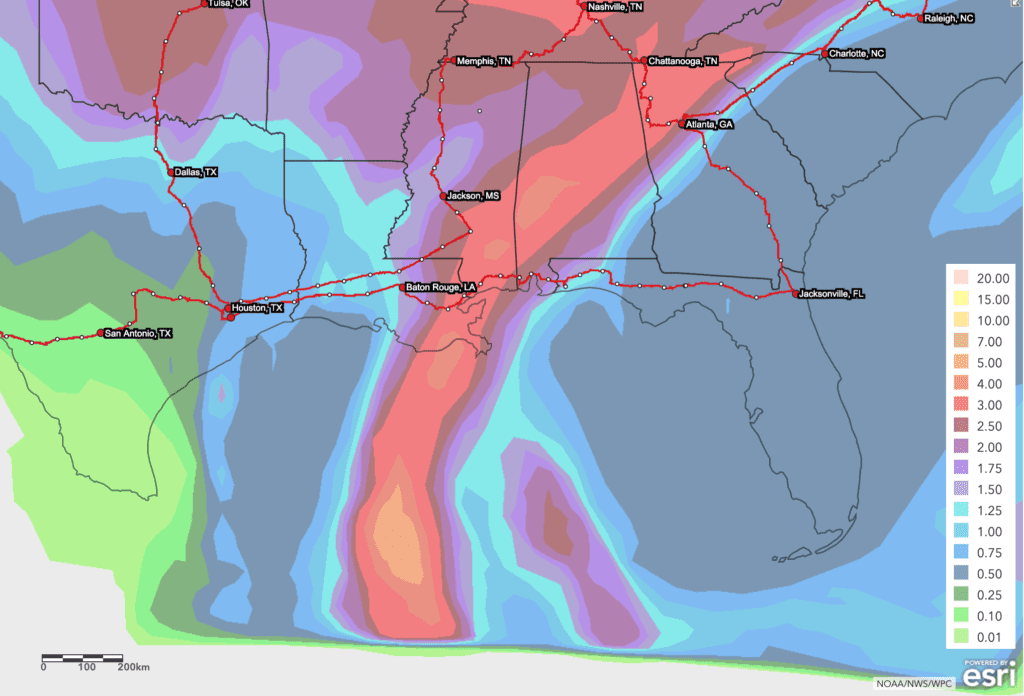 We encourage all of our members and partners in the region to please take all appropriate precautions and make any necessary preparations. As the weather can be unpredictable, we will continue to monitor the progress of the hurricane as it develops and until the danger of additional damaging effects has dissipated.
We will update this page as information changes or becomes available. Our thoughts are with everyone that may be affected by Tropical Storm Zeta.