InCommon Steering Committee Welcomes New Members
New members began serving three-year terms with the U.S. identity management federation effective January 1, 2021
WASHINGTON, D.C., January 25, 2021 – Internet2 announced the selection of three new members to the InCommon Steering Committee which provides strategic direction, oversight, and recommendations for critical identity management services and offerings that benefit research and higher education in the U.S.
The incoming steering committee members are:
Kristi L. Holmes, PhD, director of the Galter Health Sciences Library & Learning Center, and professor of preventive medicine and medical education at Northwestern University
Jeremy M. Livingston, chief information security officer at Stevens Institute of Technology
Christopher Misra, vice chancellor for information technology and chief information officer at University of Massachusetts Amherst
InCommon provides integrated service and software solutions for research and education that include single sign-on (SSO), access to cloud and local services, and seamless global collaboration for students, faculty, staff, and researchers. InCommon also serves as the U.S. node for the eduroam roaming wi-fi service, and offers a certificate service with unlimited server and user certificates.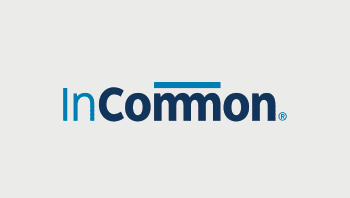 The InCommon Steering Committee is the high-level governance body establishing policies and general practices, ensuring that software and service specifications, recommended practices, and requirements all support the research and education mission of InCommon.
"Our community knows identity challenges such as bringing in a new freshman class every year, or providing access to research collaborations across the country and around the world. We work together to develop solutions that scale to support global research and education," said Kevin Morooney, vice president of trust and identity services & NET+ at Internet2. "The steering committee members are executive volunteers who take on the responsibility of providing guidance on setting priorities and ensuring that the needs of the community are addressed. I'm grateful to all our steering committee members' support of the mission of InCommon on behalf of their colleagues."
Outgoing steering committee members are Sean Reynolds, vice president for information technology and chief information officer at Northwestern University, and Pankaj Shah, executive director of the Ohio Academic Resources Network (OARnet).
About InCommon
InCommon grew out of Internet2's work in trusted access to resources, which has been underway since 1998. In 2000, Internet2 received the first of what would become 10 federal agency awards, with Ken Klingenstein as principal investigator. The awards include nine from the National Science Foundation and one from the Department of Commerce. This led to the creation of the Internet2 Middleware Initiative, and both Shibboleth and InCommon grew out of that program early on. For more information, visit www.incommon.org or follow @InCommonUS on Twitter.
About Internet2
Internet2® is a non-profit, member-driven advanced technology community founded by the nation's leading higher education institutions in 1996. Internet2 serves 320 U.S. universities, 58 government agencies, 45 regional and state education networks and through them supports more than 100,000 community anchor institutions, over 1,000 InCommon participants, and 58 leading corporations working with our community, and 70 national research and education network partners that represent more than 100 countries.
Internet2 delivers a diverse portfolio of technology solutions that leverages, integrates, and amplifies the strengths of its members and helps support their educational, research and community service missions. Internet2's core infrastructure components include the nation's largest and fastest research and education network that was built to deliver advanced, customized services that are accessed and secured by the community-developed trust and identity framework.
Internet2 offices are located in Ann Arbor, Mich.; Denver, Colo.; Washington, D.C.; and West Hartford, Conn. For more information, visit www.internet2.edu or follow @Internet2 on Twitter.
Media Contact:
Sara Aly
Communications Manager, Internet2
saly@internet2.edu