Our Valued Volunteers: 5 Questions for Josh Drake, Security Services Operations Manager (interim) – Indiana University
By Apryl Motley - Technical Writer & Communications Lead, Internet2 Trust and Identity/NET+ Service
Estimated reading time: 3 minutes
With this year's Call for InCommon Advisory Committee Nominations currently underway, we are highlighting some of our current and past volunteers from the community. (You can volunteer too! Submit your nomination by October 21.)
Josh Drake was a member of the Community Architecture Committee for Trust and Identity (CACTI) in 2021. Learn more about Josh and his experience volunteering with InCommon.

How did you first enter the IAM profession?
In 2019 I was asked to lead a working group for Trusted CI and CI Compass to explore solutions to researcher needs in identity and access management (IAM).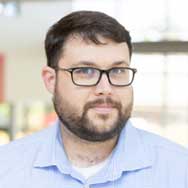 Fun Facts About Josh
Favorite Superhero: Spiderman
How He Takes His Coffee: Black with a little sugar
Best IAM Advice He Ever Received (& From Whom): "It's not hard; it's just complicated." (Ryan Kiser, Omni Security Operations Center at IU)
What motivated you to volunteer with the InCommon community?
I wanted to make sure that the needs of the National Science Foundation (NSF) research community were represented in the discussion between higher ed and the tech industry. In research projects where resources are limited, providing a streamlined onramp to IAM concepts and solutions allows me to contribute to the larger body of public scientific research.
In what ways did volunteering benefit you? What did you enjoy most?
I really benefited from the exposure to the identity management (IDM) needs and concerns of other organizations and sectors of higher ed. I learned about a lot of new tools and resources, which helped me provide better service to the research community, and I met a lot of interesting people during the process.
Would you recommend volunteering to your peers? Why?
Yes, volunteering with InCommon was a great way to improve my own knowledge while representing my slice of the higher ed community and building relationships with other cyberinfrastructure operators across the world.
What advice would you offer to peers who are considering committee participation?
Take advantage of all the opportunities to network and discuss these topics within the community and look for ways that you can serve your home organization/ institution with the knowledge you bring back. The community has been extremely welcoming and very fun to participate in.
Be like Josh! Make a contribution to the research and education community and have fun while you're doing it.
These committees are seeking new members:
InCommon Steering Committee
InCommon Technical Advisory Committee (TAC)
Community Trust and Assurance Board (CTAB)
Community Architecture Committee for Trust and Identity (CACTI)
eduroam Advisory Committee (eAC)
For more information about these groups, refer to these descriptions or visit www.incommon.org/community/leadership.
If you have any questions about the nomination process, please contact Sue Gavazzi, InCommon Community Liaison, at sgavazzi@internet2.edu.
We hope that you will consider becoming a volunteer and helping us make a positive impact on the community.